Malvinas and the Bicentennial: the Rule of Law Shadowed by the Logics of Power
Monday, April 26th 2010 - 06:12 UTC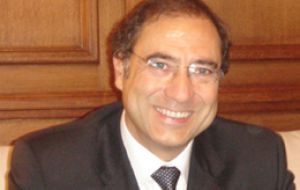 In the Malvinas issue, the rule of the law has been shadowed by the logics of power, said Argentine ambassador before United Nations Jorge Arguello during the presentation Sunday of a book titled "The Malvinas question in the Bicentennial".
"Great Britain makes full use of all its weight not only before Argentina in Malvinas, but also before the United Nations since it refuses to abide by the General Assembly mandate, that for decades has been demanding on both sides to resume sovereignty talks on the Islands", said Arguello.
The presentation at the annual Book Fair in Buenos Aires became a political event given the attendance of Education Minister Alberto Sileoni, Deputy Foreign Affairs Minister Victorio Taccetti, the chairman of the Lower House Foreign Affairs Committee and the compiler of the book, Agustín Romero.
"We must say it clearly that in the maximum forum of world diplomacy, many times it's not the logics of the rule of law but the logics of power that prevails".
The book includes essays from Defence Minister Nilda Garré, Foreign Affairs Minister Jorge Taiana, Education Minister Alberto Sileoni as well as Ambassador Arguello, members of Congress and academics.
"The book looks to reflect the plurality of ideas, suggestions, and political positions referred to the Malvinas question" said Jorge Arguello.
The compiling of the book was done under the guidance of the Malvinas Question Parliamentary Observatory that operates in the Argentine Congress with members of all political parties with representation in the Legislative.
"The Observatory is basically a reflection environment on an issue which is extremely sensitive for Argentine public opinion. It's a space where politics and academia can get together to promote debate on the issue, in a spirit of tolerance and respecting the different opinions".
"The voice of President Cristina Fernandez and from 32 other heads of state from Latinamerica and the Caribbean was heard loud and clear from Cancún, Mexico. But it was also clear the existence at United Nations of a double standard: one thing are the five members from the Security Council and something very differentthe remaining 187 countries", underlined Arguello.
"For the UN all countries are equal, and each has a vote. But as is often said some are more equal than others", he complained. "For Argentina, democratizing the UN necessarily implies eliminating the category of permanent member with the capacity to veto", continued Arguello.
Minister Sileoni celebrated the launching of the book and said it was essential to transmit this feeling to future generations and "educate to build our national identity".
Finally Taccetti pointed out to the importance of considering the Malvinas as a "national cause", and emphasized the significant support that this cause has echoed, increasingly, in the international community.