Chile Wins Bid for World's Largest Telescope to be Built in Atacama Desert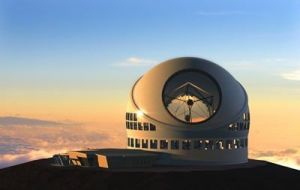 Chile has won its bid for the world's largest telescope to be constructed on its shores. The 42-metre European Extremely Large Telescope will be built in Chile's north—3,060 meters above sea level on a mountain known as Armazonas.
Armazonas is located in the central part of the Atacama Desert, 130 kilometres south of Antofagasta (Chile's fourth largest city) and some 20 kilometres away from Cerro Paranal (Paranal Hill) which is the location of the Very Large Telescope (VLT)—another telescope which is very important to the world astronomical community.
The European Southern Observatory (ESO) chose Chile as the location for the telescope for a number for reasons. The Atacama desert boasts low levels of water vapour (it is one of the driest places on the planet) as well as clear night skies (there are approximately 320 clear nights per year), both of which make perfect conditions for observation.
Chile's natural conditions, as well as a number of incentives offered by the government, made it more attractive than Spain's Canary Islands, the ESO said. Around 1, 400 acres of free land as well as a ban on light within 89,452 acres of the telescope were offered by the government to the ESO in an effort to lure the project. The government has also promised to keep the location free of contamination caused by mining activities, which are abundant in the north of Chile.
The location of the telescope was decided by the 14-member countries of the ESO and based on the results of an exhaustive comparative meteorological report. The selection process has taken years.
With the construction of the world's largest telescope, the ESO hopes to discover planets similar to Earth—that is to say, ones which are capable of hosting life. In December of last year, a planet outside of our solar system, which holds large amounts of water, was discovered by researchers working in La Silla Observatory, also based in the Atacama Desert.
Astronomers are excited about the decision to place the new telescope in Chile, and the opportunities that this will create for the future. "This is an important milestone that allows us to finalise the base design of this ambitious project, which will make possible important advances in astronomical knowledge," said Tim de Zeeuw, General Director of the ESO.
Construction of the telescope will begin next year and it is set to be operational in 2018. The other country bidding for the project was Spain with the Canary Islands.
By Alia Alhafny – Santiago Times