Colombian Surprise: Green Party Candidate Leads Presidential Race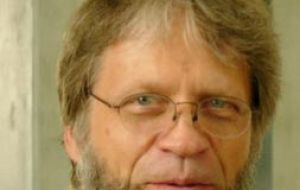 Colombia's Green party presidential candidate Antanas Mockus arrives for Wednesday's night television debate as favourite following on his spectacular rise in public opinion polls.
The debate involving the six presidential hopefuls for May 30 presidential election will take place at the studio of CityTV, in Bogotá, and will also be aired through Internet.
Antanas Mockus—a former Bogotá mayor, mathematician and philosopher—contrary to all expectations and for the first time since the beginning of the campaign is ahead in public opinion polls with 38%, while the incumbent and until this week favourite former Defence Minister Juan Manuel Santos remains with 29%, according to an Ipso-Napoleon poll released Monday.
Mockus has repeatedly stated that he will not negotiate with the FARC rebel group until all hostages are released and said he "respects", but is no fan of Venezuelan President Hugo Chávez, whom the Colombian Government has accused of interfering in the elections by attacking candidate Santos. Chávez has said that if Santos if elected president, a regional war is "almost inevitable since he is puppet of the US Empire".
"What is productive (with Venezuela) is relations based on prudence," has been the message of Mockus to Colombian public opinion. According to Colombian political analyst Alejo Vargas, soaring popular support for Mockus can be explained because of a "media swell" similar to what happened eight years ago with Álvaro Uribe who, against all odds and forecasts, was elected president of Colombia in May 2002.
"Out of the blue, eight years ago comes Uribe, a little known character from the sparsely populated department of Antioquía who begins to grow and grow, finally becoming president with no need of a run off", said Vargas.
The electoral campaign has been marked this week by the speech from President Chavez who called Santos "a real military threat" for Venezuela and "a wolf disguised as Little Red Riding Hood". Furthermore, an Ecuadorian court has indicted Santos in absence, ordering his arrest, as intellectually responsible for the bombing by the Colombian army of a FARC camp in Ecuadorian territory on March 2008, when the number two of the guerrilla forces, Raul Reyes, was killed together with over a dozen other armed bodyguards.
During the previous television debate, last April 19, Mockus criticized the military incursion into Ecuadorian territory arguing it was a violation of international law. Santos, who at the time was Defence Minister, said in the debate that given a similar situation he would again order the attack of which he "was proud" in what it achieved for Colombian security.
Wednesday's debate is expected to again concentrate on the conflicting relations with Venezuela and other neighbouring countries and security in Colombia which has been fighting a marxist-oriented, drugs funded guerrilla movement for decades.