Obama Speaks for the First Time with Honduran President Lobo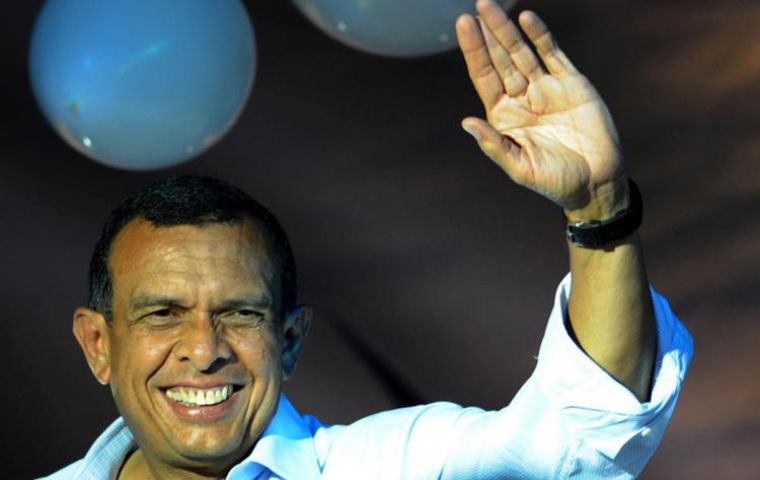 United States President Barack Obama spoke this week for the first time with Honduran President Lobo to discuss the situation in Honduras, said the White House.
President Barack Obama commended Porfirio Lobo for his "leadership in his first months in office in promoting national reconciliation and restoring democratic and constitutional order in Honduras," said the White House in a statement.
In their first phone conversation, the two presidents discussed human rights situation in Honduras and the importance of Honduras' reintegration into the Organization of American States (OAS), according to the statement. Lobo claimed victory in a general election in November last year following a constitutional crisis, and was sworn in as president in January.
The crisis was ignited by a coup, in which then-president Manuel Zelaya was ousted and exiled to Costa Rica on June 28. Later that day, Congress Speaker Roberto Micheletti was sworn in as interim president. The coup has resulted in a deep opinion divergence inside the country.
The international community condemned the coup and urged the post-coup leadership to restore constitutional order in the country. The OAS suspended Honduras' membership on July 4 but since the new elected government of President Lobo took office in January there is a growing consensus for the return of the country to the international community.
However a string of journalist killings in Honduras is again questioning the democratic process in the country and effective civilian control over the security forces. The Inter American Press Association (IAPA) has invited readers of almost 400 papers throughout the Americas to sign a letter to President Porfirio Lobo asking him to take actions to confront and stop violence against Honduran journalists. Six journalists and one broadcaster have been killed in the country since March first.
"We take the liberty of calling your attention to these cases, urging you please to instruct your country's relevant authorities not to cease their respective investigations and not to allow these murders to go unpunished," the letter says.
Readers wishing to add their signature to the letter can do so at the website of the Impunity Project, a hemisphere-wide campaign that seeks justice for more than 380 crimes against journalists—and the disappearance of a dozen others—in 22 years.
President Lobo has requested outside help to solve the murders.