Brazil's Lula da Silva Named "Most Influential World Leader" by Time Magazine
Friday, April 30th 2010 - 00:24 UTC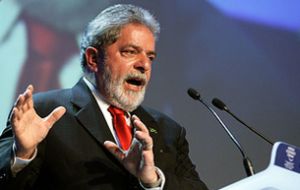 Brazilian President Lula da Silva has been named the most influential leader in the world by Time Magazine, ahead of US President Barack Obama who is ranked fourth. No European leader figures among the top 25.
Following Lula da Silva, ranked second, is J.T. Wang, chief executive officer of Taiwan's Acer Group and chairman of Acer Inc.; followed by Admiral Mike Mullen, chairman of the US Joint Chiefs of Staff; President Barack Obama number 4 and Ron Bloom, senior counselor to the US president for manufacturing policy, in fifth place.
Rounding out the top tier are Japanese Prime Minister Yukio Hatoyama at No. 6; French economist Dominique Strauss-Kahn, managing director of the International Monetary Fund, at No. 7; US Speaker of the House of Representatives Nancy Pelosi at No. 8; US author and former Republican vice presidential candidate Sarah Palin at No. 9 and Salam Fayyad, Prime Minister of the Palestinian National Authority, at No. 10.
Why did Lula top the list? Because—writes Michael Moore—the Brazilian president has taught the world, but especially the US, a lesson: "The great irony of Lula da Silva's presidency—he was elected to a second term in 2006 and will serve through this year—is that even as he tries to propel Brazil into the First World with government social programs like Fome Zero (Zero Hunger), designed to end hunger, and with plans to improve the education available to members of Brazil's working class, the US looks more like the old Third World every day."
"What Lula wants for Brazil is what we used to call the American Dream. We in the US, by contrast, where the richest 1% now own more financial wealth than the bottom 95% combined, are living in a society that is fast becoming more like Brazil."
Full list: The 2010 TIME 100