Honduras President Invited to the EU/Latinamerica Summit in Madrid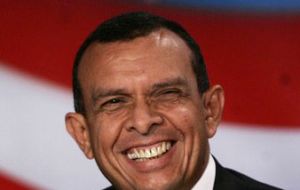 Honduras President Porfirio Lobo confirmed he would be participating of the European Union-Latin America-Caribbean summit scheduled to take place in Madrid next May 18. Lobo said he was officially invited in March and that a couple of weeks ago Spanish Foreign Secretary Miguel Angel Moratinos rang on the phone to tell him "we will be waiting for you".
"I told Mr. Moratinos the following: we don't want to be the cause of any problem for the organizers or anybody," revealed Porfirio Lobo, whose government is still not recognized by all of the international community.
Meeting with the press, Lobo said that if "I shouldn't go to the summit, I wouldn't be going" to the Madrid summit but "I won't feel intimidated if people get agitated and start wooing or yelling at me" in Spain. Therefore, "if I can I will, if I can't I won't", he added, underlining that he did not want Spain to feel "forced by my presence" or be a nuisance for nobody.
The Honduran President also said that his government had invited "all countries" to be present in Tegucigalpa next May 4 when the Truth Commission will be officially instated. The task of the Committee will be to determine what happened before, during and after the Honduras coup that removed his predecessor Manuel Zelaya from office last June, triggering an international diplomatic crisis.
Lobo said that among those who have confirmed their attendance are Organization of American States (OAS) Secretary General José Miguel Insulza and US Under Secretary of State for Latinamerica and the Caribbean, Julissa Reynoso. The Truth Commission is part of the political agreement reached with the new administration of President Lobo to normalize Honduras relations with the international community.
Earlier this week, US President Barack Obama was on the phone with Lobo for the first time since he took office last January, a strong signal of support.
Similarly, Insulza said it was time for Honduras suspension from OAS to be lifted, and Arturo Valenzuela, US Assistant State Secretary for Hemispheric Affairs, praised Lobo for complying with the political agreement that should help his administration gain full international support. The issue is essential for Honduras which together with Haiti, are the poorest countries of the region and depend heavily on foreign aid, trade advantages and grants to subsist.
However, Brazilian President Lula da Silva questioned Lobo's administration decision to award an amnesty to the military involved in the June coup and not extend the same benefit to ousted president Manuel Zelaya. "This is fantastic: off the hook for the military and not for Zelaya, the legitimate democratic elected president who was ousted by the coup", said Lula da Silva. "This shows that democratic institutions in Honduras are not sufficiently consolidated".
Brazil openly supported ousted president Zelaya, who took refuge in the Brazilian embassy from where he tried to work his way back to power. However the Honduran electoral calendar frustrated his attempts and his elected successor, Lobo, took office last January when Zelaya's constitutional term came to an end.