"Momentum" for Tory Leader Cameron After Final Debate, According to BBC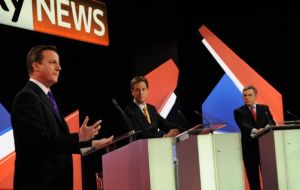 British Prime Minister Gordon Brown made on Thursday a plea to voters not to risk change as he sought to salvage Labour's election campaign in the final TV debate before polling day.
The Labour leader, whose party is third in many opinion polls, warned against a Tory and Lib Dem coalition which would put "at risk" economic recovery. David Cameron, said Mr. Brown, was trying to "scare" voters and the Tories could deliver the "change we need". Nick Clegg urged voters to "choose the future you really want".
BBC Political Editor Nick Robinson said the debate had no clear winner, but after the events of the past 48 hours, the momentum entering the final week of the campaign appeared to be with Mr. Cameron. BBC polling expert David Cowling said two instant reaction polls, for ComRes and YouGov, showed exactly the same movement—no change for Mr. Clegg over the second debate, an increase of 5% for Mr. Cameron and a drop of 4% for Mr. Brown.
The leaders discussed subjects including economic policy, immigration, housing, political reform, education, tax, banking reform and spending cuts during the 90-minute debate hosted by the BBC's David Dimbleby in Birmingham.
Mr. Brown was under pressure to get Labour's campaign back on track after he had to apologise on Wednesday to a pensioner he was unwittingly recorded calling "bigoted" after she raised concerns over immigration with him.
In his opening statement, Mr. Gordon Brown sought to draw a line under the row, saying: "There is a lot to this job and, as you saw yesterday, I don't get all of it right [...] But I do know how to run the economy, in good times and in bad."
At the end of the debate, he made his clearest admission yet that he could lose next Thursday's election, saying: "I know that if things stay as they are, perhaps in eight days' time David Cameron, perhaps supported by Nick Clegg, would be in office." But he said that both of the opposition parties represented "too big a risk to the economy." He told the audience: "I don't like having to do this, but I have got to tell you that things are too important to be left to risky policies under these two people. They are not ready for government, because they have not thought through their policies."
In his closing statement, Mr Cameron said: "If you vote Labour, you get more of the same. If you vote Liberal Democrat, it is uncertainty." Only an outright Tory victory could deliver "a clean break, taking our country in the right direction and bringing the change we need." But he also sought to reassure voters that although he would have to make spending cuts, he was concerned for the most vulnerable in society.
Mr. Clegg once again sought to strike an optimistic note, urging voters in his closing statement not to be frightened of voting for "something really different". "This is your election, this is your country," he said, adding: "When you go to vote next week, choose the future you really want."
The row over Mr. Brown's gaffe was expected to overshadow the debate, but when asked a question about whether politicians were ignoring voters' concerns about immigration, Nick Clegg and David Cameron both opted to avoid attacking Mr. Brown directly over it. They concentrated instead on a debate about the Lib Dem policy of earned citizenship, which both Mr. Brown and Mr. Cameron have branded an "amnesty" for illegal immigrants.
This sparked one of the liveliest clashes of the night, with Mr. Clegg telling his two rivals it was time to "get real" about immigration and attacking Mr. Cameron for misleading people about Lib Dem policy, saying: "Every time you talk about our policy it is wrong."
Brown said both of their policies were wrong, saying Mr. Cameron's plan for an annual cap on immigration was dishonest as it did not include the EU. Cameron said the Conservatives were the only party that would get a proper grip on immigration. The Tory leader frequently clashed with Brown over economic policy, with Brown constantly bringing up the Conservatives' inheritance tax plans and child tax credits, claiming Cameron was planning a "coalition of cuts" with Clegg.
Brown branded Conservative plans to axe child tax credits for better off families "unfair and immoral" but Cameron said he had got his facts wrong, was trying to scare voters and "should be ashamed of what he is doing". Nick Clegg said Britain's tax system was "grotesquely unfair" and vowed that the Lib Dems would fix it.
On welfare reform, Mr. Brown said the Conservatives in the 1980s had left a "wasted generation" out of work. Mr. Cameron said he was not sure what country Gordon Brown thought he was prime minister of, saying the Labour leader had caused "record youth unemployment", as Mr Brown shook his head in disagreement. The Lib Dems were the only party with a fully-costed plan to get people off benefits and back into work, said Mr Clegg.
The main theme of the debate was the economy and the leaders locked horns over the timing of cuts—with Mr Brown saying to the Tory leader: "David, you have just got it wrong" on plans to slash £6bn from public spending next year. "Take money out of the economy now for ideological reasons and you put the recovery at risk," he told the Tory leader.
Mr. Cameron hit back by saying the government could save one out of every £100, characterising Mr. Brown's plan as "let me go on wasting your money so I can put up your taxes next year". The leaders also clashed on banking regulation, how to boost Britain's manufacturing industry and the creation of more "green jobs".
Mr. Cameron went on the offensive over the Euro, saying that up until a year ago Nick Clegg was advocating Britain's entry into the single European currency, which the Tory leader said he would never do, telling the audience: "Let's stay out of the Euro, let's keep our own currency."
Mr. Clegg said Mr. Cameron was being "desperate" with this line of attack and said he would only advocate Euro entry "if the economic conditions are right" and then only after a referendum.
The Liberal Democrats gained an average of 10% in the polls after the first televised prime ministerial debate in British political history, two weeks ago. The polls suggested there was no clear winner from the second debate last week, on foreign affairs.