Repsol YPF Plans to Raise Cash to Keep Expanding in Brazil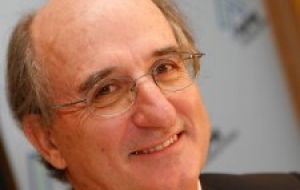 Repsol YPF S.A. (BMAD:REP), Spain's biggest oil company, is considering the sale of about 40% of its Brazil assets in an initial public offering as early as this year, company executives said Thursday on a conference call.
The IPO is among options being considered as Madrid-based Repsol YPF (BMAD:REP) seeks to raise cash for investments in Brazil, said CEO Antonio Brufau. Chief Operating Officer Miguel Martínez also said a potential share sale could happen as soon as the end of this year. An IPO of Repsol's Brazil assets may boost the company's share price, said Nemesio Fernandez-Cuesta, an executive at Repsol's exploration and production division.
"If we sell assets individually, we will probably have money and nothing more; if we get money through an IPO we will have the money for the development of the fields and increase the value for our shareholders and for the company in the future," he said.
Repsol is also considering asset sales in addition to the potential IPO, according to Brufau. An asset sale would offer other companies access to oil fields near the offshore Tupi field, the largest discovery in the Americas since 1976.
Brazil's government-managed oil company Petrobras (NYSE:PBR) is planning to sell shares before the end of July to help finance the largest investment program of any oil company in the world as it develops offshore oil fields in Brazil.
Credit Suisse expects Petrobras to raise up to 25 USD billion from minority shareholders. Repsol will wait for Petrobras to execute its plans before proceeding with its own IPO, Brufau said. "We have already discussed with Petrobras our ideas because we want to be very close to them," he commented. "We will have to wait for them to go through this process and we will see."
Petrobras aims to more than double oil production to 5.7 million barrels a day by 2020, mainly from offshore Brazilian fields where Repsol also owns assets.
A Repsol IPO or asset sale in Brazil would attract demand from other oil companies because the country has been making large oil discoveries in recent years and has a "friendly" tax regime, Ricardo Cavanagh, an analyst at Raymond James & Associates in Buenos Aires, said today in a telephone interview.
Half of Repsol's most important projects are located in Brazil, according to the company. They include the Guara, Carioca and Piracuca fields.