Mrs Kirchner Main Speaker at Anniversary of Mothers of Plaza de Mayo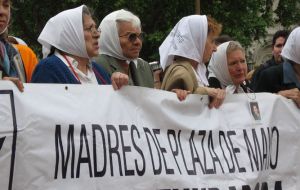 President Cristina Fernández de Kirchner gave the main speech Friday during the opening of the "Che Guevara" movie theatre at the Buenos Aires Museo de la Memoria (Memory Museum) in the framework of celebrations for the 33rd anniversary of the Mothers of Plaza de Mayo organization.
Mrs. Kirchner thanked all members of the Mothers of Plaza de Mayo Association for "giving all Argentines the chance to live in a democratic and sometimes chaotic country that above all, allows us to speak freely."
"Today is not just another day," the president said. "Exactly 33 years ago a group of women without any kind of political experience, with no involvement in what was happening back then besides their children's activism, took to the streets to find them, and in the process found and built democracy," she expressed. Mrs. Kirchner praised the Mothers of Plaza de Mayo for their "courage" and highlighted the fact that they "never asked for the death penalty" for those responsible of their sons and daughters' disappearances.
"Violence was never your response, I never heard you ask for the death penalty for anyone," she said. She then stated that the military dictatorship "was brought down by its own victims," in reference to those who disappeared and were killed in the Malvinas War in 1982. "They were brought down by the dead who were represented by the Mothers of Plaza de Mayo and those who fell in the Malvinas War," she stressed.
She then referred to the current rift between the Government and the Argentine media, and stated that "everyone is entitled to freedom of speech in Argentina, because those are the rules in a democratic society. Some people believe they own freedom of speech, but there's no special category of citizens above us, and it's those rules that allow for everyone to speak their minds," she remarked.
She went on to say that "never before in Argentine history has a president had to deal with so many things being said about them". "If you're looking for a beacon to measure how far freedom of speech in this country goes, it's this president," she said, referring to herself. She even recalled that it was actually during her presidency that Congress decided to vote for a bill eliminating a statement that called for jail time for anyone accused of slander.
Mrs. Kirchner also mentioned the recent wave of picketing and roadblocks around the country. "For a long time now, many of those who have been picketing have waited for a victim in Argentina," she said, and then assured that for as long as she's president, she would "never give the order to suppress any protest, no matter how small."
"In Argentina, anyone can say whatever they want without fear of being suppressed or beat up," she highlighted, and acknowledged that "not being able to get to work and seeing your salary be cut down is frustrating." However, she blamed it all on "small, unrepresented groups that keep looking for someone to suppress them."
The event took place at the Espacio Cultural Nuestros Hijos (ECuNHi), located in the Museo de la Memoria (former ESMA, Navy's Mechanics School) and is run by singer Teresa Parodi since it opened in January 31st, 2008.