Under the Banner "We Are All Arizona" Thousands will Protest May First in the US
Saturday, May 1st 2010 - 07:38 UTC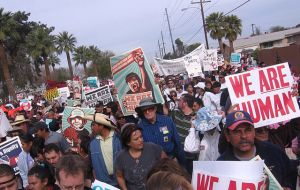 The United States immigrant community will be taking to the streets on Saturday May first—International Workers' Day—in 70 cities to demand migration reform and to protest an Arizona law which criminalizes illegal immigration.
Marchers under the billboard "We are all Arizona" will express their impatience about the several times promised migration bill that should help legalize the statues of over 11 million undocumented living in the United States.
Cities like Los Angeles in California and Dallas in Texas, where most of the Latin community lives, are expected to turn out in numbers surpassing 100.000 according to police estimates. In LA, the police anticipated it would not ask questions about the migratory condition of marchers and is preparing a huge security display to avoid serious incidents as happened on May first 2007 when law enforcement officers and protestors clashed for several hours.
Other big cities like Chicago and Washington will also witness major concentrations, with political leaders and in the capital before the White House. However, the most fury and frustration will be centered in Phoenix, Arizona's capital, where in three months time being an illegal becomes a crime.
Under the new legislation, local police can detain and question any suspect about their migratory status—a condition originally limited to federal agents—plus sanctioning anybody transporting or employing undocumented aliens.
The strong Arizona bill—criticized both by the federal government and internationally—has, in effect, stimulated the migration reform bill which seemed condemned to be forgotten just a few weeks ago.
Immigrant communities and organizations, human rights and religious groups, Latin American governments, the Organization of American States (OAS) and Latin artists such as Shakira, Ricky Martin, Paulina Rubio, Gloria Stephan and Linda Ronstad have joined to condemn the Arizona initiative.
President Barak Obama has instructed his legal advisors to determine whether the Arizona bill is unconstitutional, in order to challenge it in court. In the US Congress, Democrats and Republicans have begun discussing possible frameworks for the drafting of a bipartisan migration reform bill that could have chances of approval.
The Arizona Capitol has been exposed to daily marches and an economic and tourist boycott has been launched against the state which has a booming trade and exchange with neighbouring Mexico.
The most active artist has been Colombian Shakira, who visited Phoenix and met with the city's mayor and the local Latino community. She openly expressed her opposition to the Arizona Senate Bill 1070 and admitted concern about the consequences on immigrants once the bill becomes effective.