Organizers Confirm Argentina and Chile will Host the 2011 Dakar Rally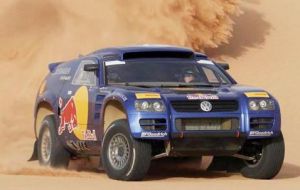 Organizers have unveiled the route for the 2011 Dakar Rally which will start and finish in Argentina's capital Buenos Aires and include a section through Chile. The 33rd edition of the "the world's toughest motor-sport event" will be the third to be run in South America after concerns about terrorists moved the rally in 2009 from its traditional route through the Sahara desert in North Africa.
The very first day of 2011 is set to be an exciting one for motor heads and rally enthusiasts alike as the Dakar Rally kicks off the New Year in Buenos Aires. Running from the 1st of January until the 16th, the 33rd Dakar, long distance endurance race will see over 300 drivers compete in harsh conditions between Buenos Aires, Argentina and Arica in Chile's north, plus the crossing of the mighty Andes twice, January 5 and 12.
Formerly known as the Paris-Dakar—an off road spectacle traversing France and Northern Africa (yes, all the way from Paris to the capital of Senegal, the namesake of the raid)—this off road rally is now based in South America and is open to professional and amateur participants alike, with the later making up a large percentage of the contestants who will compete on rough terrain on 450cc motorbikes, and a range of off road vehicles often covering up to 800 km a day.
Organizers of the Dakar Amaury Sport Organization (ASO), released the course and event stages of next year's raid in which riders, drivers and crews will do battle in scenes reminiscent of Mad Max (minus Mel Gibson), with the route providing many rugged challenges including the rocky outcrops of the Atacama Desert in Chile's north, the Andes Cordillera and white dunes of the Fiambalá region in Catamarca Argentina.
The environmental impact of the Dakar Rally has always been questionable spurring the ASO to launch new environmental incentives, according to their official website: such as carbon footprint reduction, alternative energy categories, waste collection services and a greater look at a route of mutual agreement between the participating countries.
An estimated 4 million spectators will experience Dakar 2011 in Chile and Argentina and for those more vivacious motorists; competitor enrolment will open on 15th May.