Argentine Dictatorship Former Economy Minister Arrested Accused of Kidnapping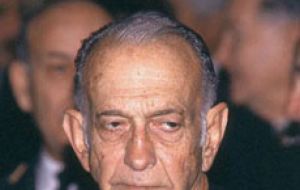 Former economy minister José Martínez de Hoz, the economic brains behind the 1976-1983 military dictatorship, has been arrested and transferred to a clinic after an amnesty law was lifted, a court official has said.
The arrest follows a Supreme Court ruling last week declaring unconstitutional a 1990 presidential pardon granted to Martínez de Hoz and former dictator Jorge Videla, who justice officials said Monday will face a new trial for kidnapping, torture and murder.
The 84-year-old Martínez de Hoz was arrested at his home in Buenos Aires and taken by ambulance to an area hospital after undergoing a medical examination, the court official added. Federal judge Norberto Oyarbide issued the arrest warrant and slapped a 500,000-dollar embargo on Martínez de Hoz's assets. Martínez de Hoz is charged with the five-month kidnapping in 1976 of a textile manufacturer and his son, Federico and Miguel Gutheim.
The government's National Human Rights Secretary Eduardo Luis Duhalde said the arrest of "the person responsible not only for the illegal activities but also of the economic plan that laid waste to Argentina (during the dictatorship) is a milestone." Unlike Videla, who in 1985 was sentenced to life in prison for numerous human rights violations while at the head of the country's military junta from 1976 to 1981, Martínez de Hoz was released after the amnesty and has never been put on trial.
The Argentine military dictatorship is blamed for the deaths or disappearance of 30,000 people and the kidnapping of 500 of their victims' children during their alleged crackdown on leftist insurgents.
Duhalde had said that Martínez de Hoz "was the civil chief of the dictatorship" and revealed that he asked for the arrest of the former Economy Minister so he can be judged "for the violation of human rights" and sentenced to incarceration in a common prison. He was Economy minister until 1981.