China's Tightens Credit, Pushes Stock Markets to their Lowest in Seven Months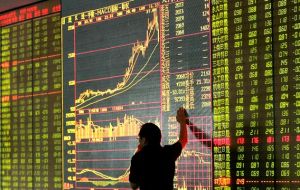 China's stocks fell on Tuesday sending the benchmark index to the lowest in seven months, on concern ordering banks to set aside more reserves won't be enough to avert asset bubbles in the world's third-largest economy.
The People's Bank of China said Monday that the deposit reserve requirement ratio for most banks will be raised half a percentage point, starting May 10. This is the third time this year that the central bank has raised the deposit reserve minimum. As of next Monday, banks will then have to increase reserves to 17% of their deposits for large institutions and 14% for most others.
The bank gave no explanation but analysts said it was trying to rein in rapid growth in China's money supply following an upsurge in inflows of speculative "hot money." Such investors are hoping to profit from a rise in Chinese asset prices in foreign currency terms if Beijing loosens exchange rate controls and allows the Yuan to gain against the dollar, which many expect in coming months.
The flood of money coursing through the economy pushed up politically sensitive housing prices by 11.7% in March over a year earlier and the Chinese economy expanded at an annualized 11.9% during the first quarter. China so far has preferred to sterilize liquidity than increase interest rates.
Industrial and Commercial Bank of China (HKG:1398 / SHA:601398) and Bank of China (HKG:3988 / SHA:601988) retreated at least 0.9 percent after Deutsche Bank AG said the reserve ratio increase removes 300 billion Yuan (44 billion US dollars) from the financial system.
Developers China Vanke Co. (SHE:000002) and Poly Real Estate Group Co. (SHA:600048) tumbled more than 4% . Guangzhou Pharmaceuticals Co. (SHA:600332) led gains for drug makers on bets the government will announce measures to boost the industry.
"The increase in the reserve ratio requirement is still the beginning of tightening policies because what the government has done so far may not be enough to prevent the economy from overheating," said Zhang Ling, a fund manager at Shanghai River Fund Management Co. "We may see more to follow such as increases in interest rates and policies targeting property."
The Shanghai Composite Index (SHA:000001) dropped 35.33, or 1.2%, to 2,835.28 at the close, the lowest since Sept. 30. The CSI 300 Index (SHA:000300) slid 1.6 percent to 3,019.45.
Meantime, in Latin America the price of copper and other minerals dropped significantly on fears of further tightening in China. Copper fell 2.5% to a two month minimum. China and its apparent insatiable demand for commodities has become Latin America's main trade partner