Petrobras Argentina Sells Parts of its Assets to Kirchner Couple Close Friend
Wednesday, May 5th 2010 - 22:03 UTC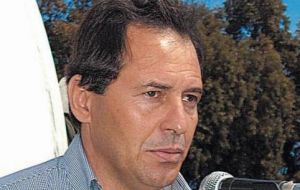 Petrobras Energía (NYSE:PZE), Brazil's government managed oil and gas corporation announced it will sell part of its assets in Argentina to Oil Combustibles SA for 110 million US dollars, including a refinery, gasoline stations and inventories.
The sale by the company's Petrobras Energía (NYSE:PZE) unit includes inventories of crude oil and other products for about 74 million USD, according to a Brazilian regulatory filing on Wednesday. The deal covers the refinery, a river unit, and a marketing network including 360 service stations. The reported offer includes 36 million for the physical assets and about 74 million in inventories. The refinery has 37,600 b/d of crude capacity, 16,000 b/d of vacuum distillation, and 3,500 b/d of thermal capacity.
Petrobras's Argentine unit needs to focus on boosting oil production and reserves after output declined, while profit margins for refining narrowed, Banco Santander's analyst Eugenia Fernández Pouchan said. "The idea is to focus on exploration and production and this will add value to the company because they have declining production and reserves" said Pouchan adding that "refining margins have been low or negative."
The Argentine company involved in the transaction is Oil Combustibles and belongs to Cristóbal López, a businessman linked to the casino industry in Argentina and a close friend of the ruling couple of Cristina and Néstor Kirchner. Lately he has invested in mining and metal industries. The operation had been anticipated last November by Buenos Aires daily La Nación but Mr. López strongly denied it at the time.
Petrobras, nevertheless, reaffirmed its intention of continuing to operate in the Argentine market. "Petrobras Energía reaffirms its permanence in the refining and fuel commercialization businesses, through the continuity of its refining operations in the city of Bahía Blanca and the corresponding commercial network."