"Transgenic Fight Back": Evo Morales Car Stolen by "Bald Suspect"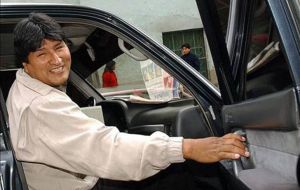 A car used by Bolivian President Evo Morales was stolen when the driver went to buy bread rolls for the president's breakfast, officials said.
The robbery took place Sunday morning in San Pedro area, a neighbourhood of La Paz, the Bolivian capital, when the driver got out of the vehicle to go buy rolls. There is still no information on the whereabouts of the stolen vehicle, an official said on Tuesday.
Eyewitnesses said a "bald male took the wheel and drove the car away." Apparently the driver left the vehicle running while he walked to the bakery.
The fact that the suspect was "bald" triggered several jokes on the local media, given the fact that last month President Evo Morales said that a transgenic diet tended to "deviate manhood" and boost "baldness".
"In a few decades, everyone will be bald," forecasted at the time the Bolivian leader, the first indigenous elected president of the country. The Toyota Land Cruiser belongs to a group of 16 security vehicles donated by Venezuelan President Hugo Chávez to Morales and other officials on Nov 1, 2008.