Brazil Announces Financial Institution to Promote and Finance Exports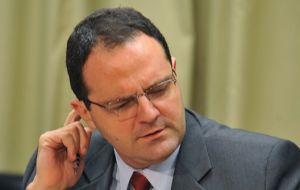 Brazil on Wednesday announced long-awaited measures to boost exports at a time when the trade surplus in Latin America's largest economy is shrinking rapidly on a yearly basis. The government will create a lender, named EXIM Brasil, to help finance exports.
Brazilian exporters eligible for tax credits will also receive those credits more quickly, the government said in a statement. The plan, which has been in the works for months, was announced only one day after Secretary of Economic Policy Nelson Barbosa said the government may have to tighten fiscal policy if the economy grows too fast.
The measures come as heated domestic demand has prompted imports to grow faster than exports, with the developed world still struggling with the aftermath of the global financial crisis and the repercussions of a debt crisis in Greece.
Data earlier this week showed Brazil's trade surplus in April, at 1.28 billion US dollars, less than half that of a year ago and the smallest surplus for the month of April since 2002. A series of government tax breaks to key industries last year helped Brazil be among the first countries in the world to emerge from the crisis.
Secretary of Economic Policy Nelson Barbosa said Tuesday the Brazilian economy will grow between 5.5 and 6.5%, raising its projection for the year from 5.2% previously. "We see an average growth of between 5 and 6 percent as sustainable. If growth goes higher than that, you have to take gradual measures to return it to that range," Barbosa said at a seminar in Brasilia. "It could be a tighter fiscal policy to ensure economic stability in the medium and long-term."
To contain rising inflation pressures, the Central Bank of Brazil raised benchmark interest rates last week by an aggressive 75 basis points percent to 9.50% and higher-than-expected industrial production data underscored concerns the economy could be overheating.
Speaking at another event in Brasilia, Finance Minister Guido Mantega also said that Brazil was prepared to grow more. "Brazil has already shown it can grow more than 5% in a sustainable way, keeping public accounts and inflation under control," he added.
Economic growth was the best way to improve the country's public accounts, he said, adding that Brazil's fiscal situation was not ideal since the country still has a nominal budget deficit. "A big challenge for us is to achieve a nominal surplus" Mantega said, forecasting the latter at between 2.2 and 2.3% of GDP in 2010.
Brazil's budget numbers deteriorated rapidly in 2009 as the tail-end of a brief economic recession and tax breaks to key industry ate into public revenues.