Colombian Candidate Warns: No Peace Talks Unless Constitution is Respected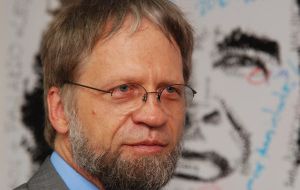 Colombia's leading presidential candidate Antanas Mockus promised that if elected president he will continue the military fight against the FARC rebels, unless the group abandons violence and kidnapping and accepts constitutional rule.
Antanas Mockus made the statement during a visit to Cúcuta, where he met with students and residents of the region as part of his Green Party campaign. Mockus said that under his leadership Colombia would not be humiliated again by guerrillas; he ruled out autonomous zones for the Revolutionary Armed Forces of Colombia (FARC), and also nixed the proposed exchange of imprisoned guerrillas for FARC hostages.
"If FARC is betting on a difference in willingness or attitude to negotiate between (current president) Uribe and me, they should run the whole race and take advantage of these two and a half months that are left and launch a lightning-fast peace process, because I can guarantee them that they will do better with (Álvaro) Uribe Vélez than with Antanas Mockus," he emphasized.
According to Mockus, what ex-mayors such as himself, Luis Eduardo "Lucho" Garzón, Enrique Penaloza, and Sergio Fajardo (all current Green Party members) have done for equality, respect for human rights, and the improvement of daily life for citizens is more than FARC has done for social justice in Colombia.
Mockus did say he was open to negotiating peace, but only if the FARC "gets rid of their weapons and helps build Colombia, but while respecting the constitution. In the framework of constitutional rule we can discuss everything they want, but certainly not if they don't begin by accepting the constitution."
The former mayor of the capital Bogotá said that the guerrilla group is financially supported through drug trafficking, drug protection and that if this "scourge" did not exist, then "we would already have experienced a peace process between guerrillas and government, as has happened in El Salvador and Guatemala".
"A guerrilla without people's support, and without close links with drug traffickers and cartels, would quickly realize that the Berlin Wall has been fallen for two decades and that Socialism nowadays has nothing to do with the oppressive Marxist ideology of the past," he added. "FARC not only enjoy being outside constitutional rule, they have an economy based on the drug trade and kidnapping. Under these conditions for me it is impossible to negotiate anyhing at all."
Mockus and his "green tide" are leading in the opinion polls ahead of Colombia's presidential election next May 30, when a successor of president Uribe will be chosen. If no candidate garners 50% of the vote a run off is scheduled a few weeks later.
Outgoing president Uribe, one of the most popular leaders of Colombia in recent history has been in office for two consecutives mandates and was barred from a third attempt which needed previously a referendum by the country's Constitutional Court. With strong support from Washington he has brought relative peace and security to Colombia, boosted the economy and inflicted the 45 year old FARC, Marxist-inspired, drug trade financed group some of their major defeats forcing them to be on the run and back in hiding for the first time in decades.
His successor and apparent political heir, former Defence Minister Juan Manuel Santos was favourite according to opinion polls until a couple of weeks when, to everybody's surprise including Mockus, the "green tide" begun climbing in vote intention and clearing distancing itself from the other candidates.