Greenpeace Condemns Spain's Fishing "Armada" for Plundering World Oceans
Thursday, May 6th 2010 - 00:20 UTC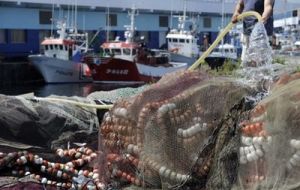 Spain's fishing fleet, Europe's largest, is using massive European Union (EU) subsidies to "plunder" the oceans of the world, environmental group Greenpeace charged this week.
"Despite a collapse of European fish stocks and decades of promises to reduce capacity, Spain's industrial fishing has actually grown, fuelled by European Union (EU) subsidies and short-sighted Spanish policies," Greenpeace said in a report. The report was released as about 200 European government officials, industry professionals and NGO representatives met in the north western city of La Coruña to discuss reforms of the sector ahead of a ministerial conference in the city of Vigo.
It said some 400 Spanish vessels, representing more than half of the country's gross tonnage, fish outside the EU for at least 90% of their time. "Spain's fleet has grown into a voracious armada representing nearly a quarter of the entire EU fishing capacity," it said. The fleet is twice the size of Britain's and three times Italy's—the next biggest fishing nations—and its largest trawlers "can haul in 3,000 tonnes of tuna per trip, double the annual catch of some Pacific nations."
Spain "is now plundering waters as far away as Antarctica and Africa, using European taxpayers' money," Greenpeace said.
Between 2000 and 2006, the country received 46% of EU subsidies to the sector, ahead of Italy and France, which got 11 and nine per cent respectively, Greenpeace said. The bulk of EU fisheries subsidies went to the country's largest vessels, "instead of being used to support the much larger group of small-scale fishermen, generate employment or promote more environmentally-friendly fishing methods," it said.
The European Commission's official in charge of fisheries policy, Cesar Deben, warned at the conference in La Coruña that the status quo cannot be maintained. Within 10 or 15 years, "there will be a disastrous scenario, with the collapse of the sector and the risk of undermining the economies of entire regions," he said.
But representatives appeared divided over proposed reforms. Some countries, such as France and Ireland, expressed concerns over the use of transferable quotas, Deben said. He said a plan to boost aid to small-scale or inshore fishermen, whose work is more respectful of the environment, was also controversial as several states wanted to include small trawlers, which was unacceptable to the Commission. The conclusions are to be presented to the EU fisheries ministers in Vigo later this week.
As the conference was under way, Greenpeace activists hung a banner on the Tower of Hercules, an ancient Roman lighthouse near La Coruña, urging EU ministers to "Save Our Oceans". "If Europe wants fish tomorrow, Spain must stop over-fishing today," said Greenpeace oceans campaigner Farah Obaidullah. "Ministers gathering here should immediately take steps to reverse Spain's ocean destruction at this critical time".
FIS/MP