Several UNASUR Members Could Skip Madrid Summit because of Honduras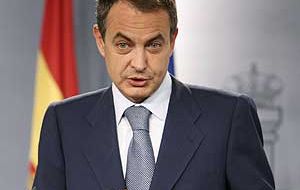 Several UNASUR member countries plan to skip the upcoming Latin America, the Caribbean and the European Union Summit (EU-LAC) in Madrid if Honduran President Porfirio Lobo is invited, Ecuadorian President Rafael Correa said in Buenos Aires.
Union of South American Nations (UNASUR) failed to reach consensus on the Honduras issue during a summit Tuesday near Buenos Aires.
International recognition of Honduras has been in question since then-president Manuel Zelaya was ousted by a coup in June 2009. Porfirio Lobo was won the presidency in a previously scheduled election in November, but many Latin American countries still refuse to recognize his government because the vote was organized by the interim regime that replaced Zelaya.
"The central point of dissent is that there are countries that recognized the Honduras government, and there are countries that did not," Uruguayan Foreign Minister Luis Almagro said after Tuesday's summit talks.
Rafael Correa, who holds the UNASUR rotating presidency, said that several countries in the organization "could not attend a summit" with Honduras—including the May 15-18 EU-LAC meetings—because they regard Lobo's government as illegitimate. "That annoyance is obvious, (it is) as if nothing had happened in Latin America and in Honduras, when there is a coup d'etat, when there is a latent conflict. Honduras is still outside the inter-American system," Correa said.
He noted that UNASUR countries asked him to tell Spanish Prime Minister José Luis Rodríguez Zapatero that they think "an indiscretion has been committed in inviting a Honduran government that is not recognized by many countries".
But the decision was not unanimous because two countries, Colombia and Peru, have already recognized the government of Lobo and have no problem in sharing a summit next to him. Apparently, the government that would skip the summit are Argentina, Ecuador, Venezuela, Bolivia and Paraguay. Brazil and Uruguay will wait to see what the reply from Madrid is.
The big surprise has been Chile's Sebastián Piñera, who said that if the government of Honduras is present at the summit "we wouldn't attend, since we do not consider it a legitimate government".
The opposition of several South American countries could also prevent Honduras from being re-admitted to the Organization of American States (OAS), if less than 75 per cent of the 33 voting countries were to oppose re-admission. Honduras's OAS membership was suspended after the coup.
United States has recognized the Lobo administration, because it is complying with a political agreement that includes a Truth Commission to investigate the institutional disruption, and is also sponsoring Honduras return to OAS.