Brazil Will Not Allow Drug Cartels or Armed Groups from Taking Over Paraguay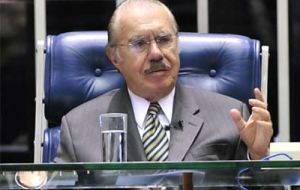 Brazilian Senate president José Sarney said there are serious risks of a "Colombianization" of Paraguay given the recent actions of an armed group self proclaimed the Paraguayan People's Army, EPP, and called for strong support for President Fernando Lugo.
"EPP (Ejército del Pueblo Paraguayo / Paraguay People's Army) can't turn into a FARC or a Shinning Path," said Brazilian Senator José Sarney in reference to the Colombian and Peruvian seditious armed groups. Brazil "with all its greatness can't allow any source of instability in its neighbourhood" or allow for a similar process to those that "have already happened in Peru or Colombia," insisted the former Brazilian president.
Sarney, one of President Lula da Silva's main allies in Congress warned that Brazil could suffer consequences from an instability situation in Paraguay. Brazilian Defence Minister Nelson Jobim said this week that the Brazilian Federal Police has increased collaboration with Paraguayan authorities, and Congress approved the donation of three jungle fighter planes to the Paraguayan Air Force.
"So far Brazil has managed to stay out of that mess: the drug cartels have not managed to infiltrate the Armed Forces, the Judiciary or the government," said Sarney. President Lula da Silva met with week with his Paraguayan counterpart Fernando Lugo in the border town of Ponta Porá where among other issues they analyzed recent acts of violence in Paraguay.
On Tuesday, UNASUR (Union of South American Nations) explicitly supported President Lugo who declared a state of emergency in five provinces to the north where several killings, attack on police forces and kidnapping for ransom have taken place, attributed to EPP—allegedly a guerrilla group—although there are other theories about its real intentions, according to Paraguayan analysts.
During the UNASUR summit in Buenos Aires and according to Brazilian and Argentine press reports, president Lugo in a private meeting told his peers that he was the target of "a coup similar to that which happened in Honduras," last year when elected president Manuel Zelaya was flown out of the country at gunpoint.