Hung Parliament in UK: Labour Looses but Cameron Short of a Majority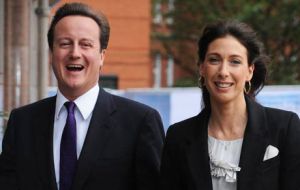 British Conservative Leader David Cameron said the Labour government has lost its mandate to govern, as exit polls suggested the Tories have won the largest number of seats in Britain's national election, but will not gain a majority.
But Prime Minister Gordon Brown hinted on Friday that he might try to form a coalition government with the Liberal Democrats.
A BBC analysis suggested Cameron's party will win 307 House of Commons seats, short of the 326 seats needed for a majority, according to results from a poll done for three broadcast networks. Two scenarios could arise: Brown could resign if he feels the results have signaled he has lost his mandate to rule, or he could try to stay on as leader and seek a deal in which smaller parties would support him.
But Cameron said voters have sent a message that they want to move in a different direction. "I believe it is already clear that the Labour government has lost its mandate to govern our country," Cameron said Friday in Witney, west of London. "Our country wants change. That change is going to require new leadership."
However, Brown, speaking after he won his own district in Scotland, said he would "play [his] part in Britain having a strong, stable and principled government." He also pledged action on election reform—a key demand of the Liberal Democrats.
Foreign Secretary David Miliband said, given the election results, Labour and the Liberal Democrats were "honor bound" to talk to each other. Business Secretary Peter Mandelson, also Labour's election chief, noted that in a "hung parliament"—one in which no party has a clear majority—the sitting prime minister is traditionally given the first chance to form a government.
Millions of voters headed to polling stations Thursday to cast their ballots in a general election that was widely expected to be the closest race in years. More than 44 million people had registered to vote in the election, in which voters were asked to pick both MPs for the 650-seat British Parliament and a number of local authorities.