Petrobras Sets Monthly Record Oil Production in April: 2.033 Million bpd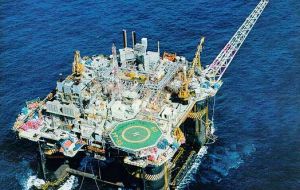 Brazilian government managed oil and gas corporation Petrobras (SAO:PETR3) set a monthly record for oil production in April with 2.033 million barrels per day topping the previous record of 2.004 million bpd from September 2009, the company said Friday.
Petrobras (SAO:PETR3) produced an average 1.994 million bpd per day in March. That was up from February's output of 1.988 million bpd. April's output was up 1.9% from March and 2.9% from April 2009, Petrobras said. The company has increased oil output in recent months, as production ramps up at several oil platforms installed over the past 18 months. The company also expects to post production records later this year as two new platforms come on stream.
The FPSO (floating production, storage and offloading vessel) Cidade de Santos will start operations at the Uruguá-Tambaú field, while the FPSO Capixaba will start producing from the Cachalote and Baleia Franca field.
Petrobras pointed out the new wells connected to the FPSO Cidade de Vitória at the Golfinho field off the coast of Espírito Santo state, as well as new wells at the Marlim Leste field in the Campos Basin. A long-term well test at the Tiro field in the Santos Basin also contributed to the boost in output, Petrobras said. The well test started March 19.
The company also started output from new wells at two on shore fields: Rio Urucu and Leste do Urucu in the Amazonas Basin.
In addition to the monthly oil production record, Petrobras also set consecutive daily production records for total oil output. The company produced 2.082 million barrels of oil equivalent, or BOE, and 2.084 million BOE, respectively, on April 23 and April 24.
The company's overall daily oil and natural gas production slipped 0.2% to 2.556 million BOE in March on lower natural gas production.