Spain Emerges from Two-Year Recession with More Doubts than Certainties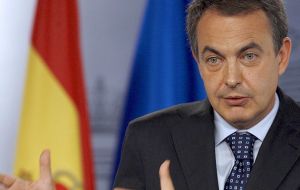 Spain's economy emerged from an almost two-year recession in the first quarter, trailing the Euro area by six months. GDP expanded 0.1% in the first three months of 2010, the Madrid-based Bank of Spain estimated in its monthly report today.
Spain's once-booming economy started contracting in the second quarter of 2008 and has taken six months longer than the Eurozone as a whole to return to growth as households pay down debt and suffer the region's highest unemployment rate.
Contagion from the Greek crisis—which pushed Spain's risk premium to a 14-year high Friday—may undermine the recovery as Prime Minister José Luis Rodríguez Zapatero struggles to convince investors he can control one of Europe's biggest deficits.
The extra yield investors demand to hold Spanish debt rather than German equivalents stood at 162 basis points Friday, after earlier rising as high as 172 basis points from 163 Thursday. Earlier this week, Rodríguez Zapatero denied as "complete nonsense" speculation that Spain would have to seek a Greek-style bailout.
Standard & Poor's cut Spain's credit rating on April 28, saying the government was underestimating its fiscal problems and overestimating growth prospects. The government is basing its budget plan on an assumption the economy will grow 1.8% in 2011, accelerating to 3.1% in 2013. S&P expects Spain's economy to grow an average of 0.7% a year through 2016.
At 11.2% of GDP, Spain's budget shortfall was the third-biggest in the Eurozone last year and the European Commission projects the gap will be larger than Greece's in 2010. S&P forecasts the Spanish deficit will remain above 5% of GDP in 2013, the year the government has pledged to cut it to the European Union's 3% limit.
The Bank of Spain said today that the government's budget-cutting plan was "ambitious" even as it was "optimistic." The program is "based on an optimistic macroeconomic scenario, so strict fulfillment may require complementary measures," it said in the report.
Finance Minister Elena Salgado told reporters today that the data matched the government's estimates and that the rest of her forecasts would also be met.