Tories and Lib Dems Hold Coalition Talks; Agree PM Brown Should Walk Down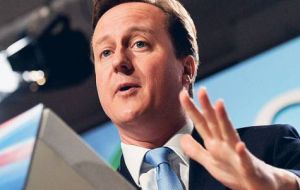 Conservative leader David Cameron has reached out to the Liberal Democrats in an effort to form a government after the UK general election resulted in a hung parliament. The Tory leader, whose party won most seats but was short of a majority, said he wanted to make a "big open and comprehensive offer" to the Lib Dems.
BBC political editor Nick Robinson said it could include Lib Dems in cabinet. Labour leader Gordon Brown has already stressed his party's "common ground" with the third biggest party.
Mr. David Cameron spoke to his Lib Dem counterpart Nick Clegg by phone on Friday afternoon in what has been described to the BBC as a "very constructive" conversation. However, there was little discussion of details.
Further talks are due on Friday evening, during a meeting involving the Conservatives' George Osborne, William Hague, Oliver Letwin and Mr. Cameron's chief of staff, Ed Lewellyn. Chris Huhne, Danny Alexander, Andrew Stunnell and David Laws will represent the Lib Dems.
With results from all 649 constituencies contested on 6 May now declared, the Tories have got 306 seats—or 307 including the previously Tory-held Thirsk and Malton, where the election was postponed after the death of a candidate. It leaves the party just short of the 326 needed for an outright majority.
Labour has finished with 258 MPs, down 91, the Lib Dems 57, down 5, and other parties 28. The Conservatives got 36.1% of votes (up 3.8%), Labour 29.1% (down 6.2%) and the Lib Dems 23% (up 1%).
Past practice under Britain's unwritten constitution sees the sitting prime minister in a hung parliament having the right to make the first attempt at forming a ruling coalition. But Mr. Cameron said Mr. Brown had "lost his mandate to govern" after the Conservatives won the most votes and the most seats. And Nick Clegg, leader of the third biggest party, the Lib Dems, said he believed the result gave the Tories the right to seek to govern first.
Mr. Cameron referred to the "outgoing Labour government" in his speech. But Mr. Brown said he was making his statement "as prime minister with a constitutional duty to seek to resolve the situation for the good of the country."
The Conservative leader said talks would begin with other parties. He said one option was to offer them reassurances about certain policy areas, then try to govern as a minority Conservative government. But he said it might be possible "to have stronger, more stable, more collaborative government than that."
"I want to make a big, open and comprehensive offer to the Liberal Democrats. I want us to work together in tackling our country's big and urgent problems—the debt crisis, our deep social problems and our broken political system," he said.
While there were policy disagreements between the Tories and Lib Dems—including on the European Union and defence—there were also "many areas of common ground." The Conservatives agreed with the Lib Dem on ideas such as a "pupil premium" in schools, a low-carbon economy, tax reform and shared opposition to Labour's ID cards scheme.
But he did not pledge a referendum on changing the voting system—a key concern of the Lib Dems—instead offering an all party committee of inquiry on political and electoral reform. "I think we have a strong basis for a strong government. Inevitably the negotiations we're about to start will involve compromise. That is what working together in the national interest means," Mr. Cameron said.