Cameron Inching Closer to 10 Downing, but Minority Government an Option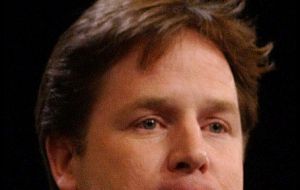 Negotiators for Conservative David Cameron and Liberal Democrat Nick Clegg completed their third session in search of a deal to form a new British government as they faced pressure to reassure investors over political stability.
The 6 hours meeting—aimed at bridging differences on issues that include overhauling the electoral system—were described as "positive and productive" by Conservative negotiator William Hague. Cutting a record budget deficit would be the core of any agreement, he told reporters in London.
"It is important to show progress by tomorrow when the markets open," Michael Gove, the Conservatives' education spokesman and a David Cameron adviser, said Sunday on the BBC's Andrew Marr Show.
The pound and gilts fell May 7 on concern the jockeying would undermine efforts to cut a record budget deficit. Sterling fell 0.2% to $1.4804 after dropping as much as 2.4% and gaining 0.7%. Government bonds slid, pushing the 10-year gilt yield up by 3 basis points to 3.84%.
The negotiations to form an alliance to oust Prime Minister Gordon Brown were triggered by elections May 6 that failed to produce a majority, resulting in the first hung Parliament since 1974. Brown—who has also appealed to Nick Clegg for an alliance—remains in office amid what he called "a political landscape not considered possible a few short weeks ago."
Clegg spoke to both Brown and Cameron Sunday meeting the PM in London and speaking by phone to the Conservative leader. Hague said his team would resume talks with the Liberal Democrats, whose negotiators include Vince Cable and Danny Alexander, "in the next 24 hours".
According to the YouGov Plc poll for the Sunday Times newspaper 62% said Brown should quit now and 28% disagreed. YouGov questioned 1,406 adults online May 7 and Sunday.
The Conservatives won 306 districts in the vote, a net gain of 97 from the previous election in 2005. Labour Party had a net loss of 91 seats to end with 258. The Liberal Democrats lost five seats and now have 57 members of the 650-seat House of Commons.
With Cameron winning the most seats and votes, "one has to assume that he and Nick Clegg can make it work" said Diane Abbott, Labour member of Parliament from London since 1987. Labour lawmakers Kate Hoey and John Mann became the first of the party's elected officials to call on Brown to step down.
Still, Liberal Democrat lawmaker Simon Hughes said a deal with the Labour Party should not be ruled out. The talks with the Conservatives are "not the only show in town," Hughes told Sky News. "Let's see how today goes, how tomorrow goes. If we can agree we will, if we can't we move on."
Clegg, 43, said today the Liberal Democrats would emphasize "the big changes we want." They include changes to the voting system to give smaller parties greater representation in Parliament, an end to income tax for 3.6 million low earners, a breakup of big banks and cutting school class sizes.
Cameron, who says he wants to stick with Britain's first-past-the-post voting system, proposed setting up a panel to study an electoral overhaul. Brown offered Clegg an immediate referendum on the issue. The YouGov poll said 62% favored a "more proportional" voting system, against 13% who opposed it.
A failure by either Brown or Cameron to come to terms with potential allies would probably result in Cameron seeking to establish a minority government. PM Brown, 59, would need an unprecedented four-way alliance—including Scottish and Welsh nationalists—to stay in power.