Falklands Attends Commonwealth Parliamentary Association Conference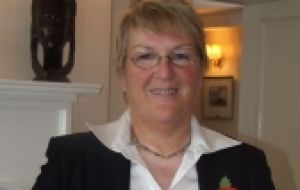 Legislative Assembly member Sharon Halford is attending the annual British Islands and Mediterranean Regional Conference of the Commonwealth Parliamentary Association in the Isle of Man which opens Monday until May 14.
The theme of the conference is "Technology and Democracy: Successes and Challenges". This is Ms. Sharon Halford's second visit to the Isle of Man this year. Ms. Halford said: "Hopefully I will gain an insight into how we could better communicate with our constituents and also other bodies worldwide."
The Conference will be addressed in plenary session by expert speakers on three aspects of the theme:
The possibilities for democracy created by new technologies including, in particular, recent developments in information technology.
The challenges faced by Governments wishing to exploit new technologies when running large-scale projects.
The challenges presented by information technologies in terms of protecting important rights and freedoms such as the right to privacy.
Following each speaker session, delegates will join breakout groups to share their thoughts and experiences on each topic, after which a representative of each breakout group will report back to the plenary.