Former Allies but Later Staunch Critics of Chávez Sentenced to Years of Prison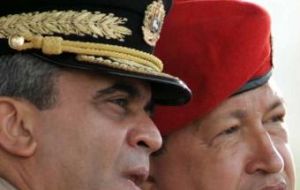 A former Venezuelan defence minister who has become a staunch critic of President Hugo Chávez was sentenced to almost eight years in prison for alleged misappropriation of funds in connection with the purchase of military equipment.
A military tribunal handed down the sentence in the presence of Raúl Baduel and fellow defendant Lt. Col. Hernán Medina Marval, who received the same 7-year, 11-month jail term for "embezzling public funds" belonging to the armed forces.
Baduel has been jailed for slightly more than a year at the Ramo Verde prison outside Caracas, set aside for military personnel, while Medina Marval has been held at the same facility for two years.
According to Baduel's defence attorneys and relatives and Chávez opponents, the corruption charges were political retaliation for his open opposition to the president. The former defence minister was named to that post after helping restore Chávez to power following a short-lived 2002 coup.
But he later broke with the president over his 2007 attempt to overhaul the constitution to allow unlimited re-election. That initial effort failed, but term limits were later abolished in a 2009 referendum. Last month, Amnesty International (AI) accused the Venezuelan government of deliberately targeting opposition leaders and sympathizers and urged it to stop such practices after "a series of politically motivated arrests."
In a communiqué, AI denounced the fact that at least three opponents of President Chávez were arrested and had charges filed against them in March alone. "Charges brought for political reasons against critics are being used to silence dissent and prevent others from speaking out," Guadalupe Marengo, AI's deputy director for the Americas, said.
AI was referring to the cases of former Zulia state Gov. Oswaldo Álvarez Paz, lawmaker Wilmer Azuaje and Guillermo Zuloaga, the owner of opposition-aligned Globovisión television.
The Venezuelan Attorney General Office said this week it dropped a conspiracy charge against Álvarez Paz, although the former presidential candidate remains accused of spreading false information and publicly instigating crime.
Álvarez Paz was arrested on March 18, 10 days after saying in an interview on Globovisión that Venezuela had become a haven for drug trafficking and that Chávez's government has links to Marxist guerrillas in Colombia. The conspiracy charge was the most serious the former governor was facing, though he could still be sentenced to prison if convicted on one of the other counts.
Chávez's main rival in the 2006 presidential election, Manuel Rosales, fled to Peru after being charged with corruption. He was granted political asylum in Lima.
"Over recent years, the Venezuelan government appears to have established a pattern of clamping down on dissent through the use of legislative and administrative methods to silence and harass critics," Amnesty International said in early April. "Laws are being used to justify what essentially seem to be politically motivated charges, which would indicate that the Venezuelan government is deliberately targeting opponents" said AI.