China April Inflation Accelerates and Property Prices Jump 12.8%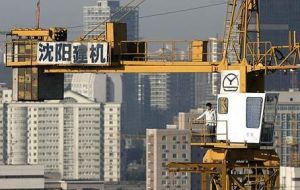 April inflation in China has accelerated as bank lending exceeded estimates and property prices jumped by a record, increasing pressure on the government to raise interest rates and let the currency appreciate.
Consumer prices in China rose 2.8% last month from a year earlier, the fastest pace in 18 months, while real estate prices jumped 12.8%, the statistics bureau said. Meanwhile, new lending of 774 billion Yuan (8.4 billion US dollars) exceeded predictions.
Chinese stocks fell amid expectations the government will move in earnest to curb overheating. The Shanghai Composite Index (SHA:000001) fell 1.9% to close at 2,647.44, the lowest in almost a year. It has slid 21% since November, pushing it into bear market territory.
China's growth rate is not a problem and Beijing should focus on preventing excessive increases in asset prices and liquidity after Europe's almost 750 billion Euro rescue package reduced the risk of another global slump, People's Bank of China (PBOC) adviser Li Daokui said. "If inflation is not contained, the central bank will have to raise interest rates," said Mr. Zhao Zifeng, who oversees about 10.2 billion USD at China International Fund Management. "We'll still need to gauge housing prices in the coming months as the previous crackdown measures were put in place not long ago. More tightening policies could follow".
The PBOC hinted at allowing the Yuan appreciate in its quarterly policy report on Monday when it changed its language to say that the Yuan level would be determined by "market demand and supply and with reference to a currency basket."
April's increase in consumer prices compared with 2.4% in March. Meanwhile producer prices jumped 6.8%, the biggest in 19 months and above the economists' 6.5% median estimate. The jump in property prices in 70 cities was the biggest since publication of the targeted data began in 2005, defying a government crackdown on speculation that intensified last month.
China's government aims to contain full-year inflation at 3% avert property bubbles after record credit growth drove an economic rebound. Investors are concerned that stimulus withdrawal and a slowdown in construction could choke off growth after an 11.9% expansion in the first quarter.