Spain Under Pressure from Europe Unveils Drastic Cuts to Contain Budget Crisis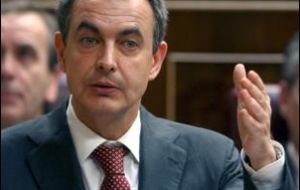 Under pressure from Europe to deliver (shape up or ship out) Spain's PM has outlined a plan to tackle the country's budget crisis, amid concerns that problems afflicting Greece may spread across the Eurozone.
Spain's José Luis Rodríguez Zapatero announced a 5% cut to public sector salaries, withdraw a flagship child benefit payment as well as reductions to pensions and regional government funding. He said the plan would save about 15 billion Euros over two years.
At the weekend Spain said it wanted to drastically reduce its budget deficit, which currently stands at 11% of GDP, (the Eurozone's third-largest after Ireland and Greece). The aim of the new package is to trim this deficit to 6% of GDP in 2011.
In his speech to parliament, Rodríguez Zapatero revealed other details of the plan. Automatic increases in pensions will be suspended from 2011 and funding for regional governments cut. "We aim to cut civil service wages by an average of 5% in 2010 and freeze them in 2011," he added. He said his own salary and those of senior cabinet members would be cut by 15%. Rodríguez Zapatero said he wanted "to contribute, with our financial stability, to the financial stability of the Eurozone". The cabinet is to vote on the new proposals later this week.
More than 400,000 families are set to lose the 2,500 Euro payment to new mothers known as the "baby cheque," that was introduced three years ago in an attempt to raise the country's birth rate. On announcing the cuts before Parliament, the Prime Minister was ferociously criticized by the opposition that asked for his resignation, and even coalition partners, unaware of the extend of the drastic measures.
The European Union has been anxious to see more fragile European economies including Spain, Portugal and Greece impose tougher austerity measures. On Sunday it approved a 750 billion Euro rescue package to prop up European economies struggling with large debts.
Many Spaniards fear the effect the cuts will have on the economy, which has already contracted sharply, and where the unemployment rate exceeds 20%—twice the Eurozone average. The economy has also lost competitiveness with inflexible labour and trade practices.
Rodríguez Zapatero was speaking as government statistics showed Spain had moved out of recession in the first quarter of this year, with growth of 0.1%.
Spain enjoyed more than a decade of rapid growth fuelled by EU regional aid and low Euro interest rates, and long boasted a healthy budget balance and low debt. But public finances were severely hit by the collapse of a construction bubble in the 2007-8 credit crunch.
On Tuesday, US President Barack Obama called the Spanish leader urging him to take "resolute action." The White House said Mr. Obama was actively engaged in lessening the global impact of Europe's debt crisis.