EU Confirms Re-Launching of Trade Talks with Mercosur at Madrid Summit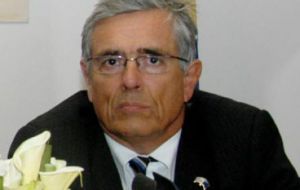 The European Union and Mercosur will officially re-launch negotiations for a trade and cooperation agreement they have been discussing since 1999 in the coming Madrid summit, in spite of fears about their farm sectors from several European countries, said the EU representative for Paraguay and Uruguay.
"There's an ongoing debate inside the European Union (EU) about the moment when to re-launch these negotiations," said Geoffrey Barrett during a press conference in Montevideo, but the European Commission "is convinced" that dialogue must advance so as to achieve an agreement that will represent a GDP increase for both sides in the range of 12 billion Euros.
The association, trade and cooperation agreement would create the largest free trade area in the world with a 700 million population and would dramatically multiply bilateral trade by 100 billion US dollars annually.
Several European countries depend heavily of EU subsidies for their agriculture sectors and are in open disadvantage when it comes to competing with Mercosur. However, the EU also expects that Mercosur countries would open their markets to European manufactured goods.
Yielding from both sides to "reasonable limits" is the purpose and the path for the crystallization of the agreement. Over fifteen rounds of negotiations have been unable to moderate differences on both sides that abandoned dialogue in 2004.
Informal meetings during the last eighteen months have helped to bring positions closer, although discrepancies in areas such as agriculture, manufacturing and services remain an obstacle for a final agreement. France and nine other countries have anticipated that if EU accepts "new concessions" in agriculture, this would be "unacceptable."
EU, Latinamerican and Caribbean leaders will be meeting in Madrid for a summit which is held every two years.