Mrs. Kirchner Promises to Refinance Provincial Government Debts
Friday, May 14th 2010 - 04:34 UTC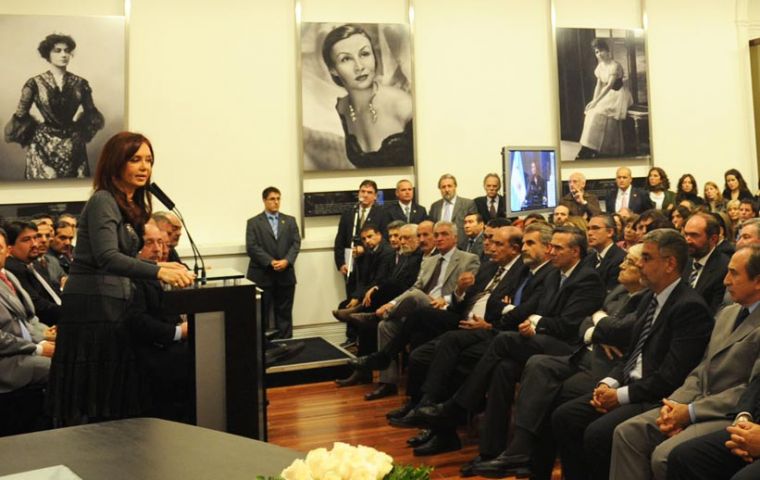 The Argentine government said it will refinance 89% of the debt that most of the country's provinces hold with the federal government, announced President Cristina Fernandez de Kirchner and Economy Minister Amado Boudou.
About 65.5 billion pesos (16.8 billion USD) of provincial debt will be eligible for the plan, which will extend maturities until 2030 at an annual interest rate of 6%, Minister Amado Boudou said. The proposal will cut provincial debts to the central government by 40% by 2015, anticipated President Cristina Fernández de Kirchner.
"In this way they will see their debt loads reduced and they will be able to put their resources to work on social assistance programs and on improving the productivity of the regional economies," Boudou said at the presidential palace in Buenos Aires.
The refinancing will involve tapping a 9.8 billion peso fund and eliminating payments tied to inflation, Boudou said. Five of Argentina's 24 provinces won't take part in the plan because they aren't indebted to the federal government, Boudou said.
According to Buenos Aires analysts, provincial financing needs will jump to 26 billion pesos in 2010 from 18.5 billion pesos last year. Local governments' deficits will swell to 12 billion pesos this year, equal to 0.8% of GDP, from 9 billion pesos in 2009. Political analysts argue that the initiative will help boost former president Néstor Kirchner's standing in the provinces and his 2011 presidential ambition.