Gibraltar Celebrates: Hague and Fox "Could not be Better Choices"
Saturday, May 15th 2010 - 04:29 UTC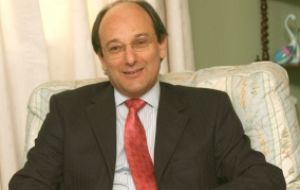 Gibraltar Chief Minister Peter Caruana gave the warmest welcome the Rock could give to a new Foreign Secretary as he described William Hague, former Tory leader, as a "safe pair of hands" from Gibraltar's perspective.
Peter Caruana said he will be "a good Foreign Secretary for Gibraltar" and described him as a friend. Mr. Caruana and William Hague have met regularly in Gibraltar and in London.
But Mr. Caruana confirmed to the Gibraltar Chronicle that a ministerial tripartite meeting is unlikely to take place in July although a non-ministerial in Gibraltar is a possibility by then. The ministerial meeting could be pushed to September once the new UK Government has settled in.
Mr. Hague, also well profiled as a TV personality in Britain, was a key figure in the Conservative campaign to win local votes at last year's elections to the European Parliament, in which Gibraltar forms part of the South West constituency.
Mr. Caruana highlights Mr. Hague's public support for the principle of self-determination in Gibraltar and said that this is not a Foreign Secretary who would give in to pressure over Gibraltar for advantages in Europe or the like.
Liam Fox—also a regular visitor from the Tory party to Gibraltar and Mr. Caruana—was pleased at his appointment as Defence Secretary, given Mr. Fox's robust and supportive stance on Gibraltar. He recognised that this will not immunise Gibraltar from the effects of MOD cuts, but he believed Mr. Fox's sympathy for Gibraltar would benefit The Rock. "They could not be better choices," he said.
Last June, Mr. Hague arrived in Gibraltar on his first ever visit with a clear message for the people of Gibraltar from David Cameron, the Conservative leader: "A Conservative government will always cherish the relationship with Gibraltar and will have nothing to do whatsoever with any shared sovereignty deal over Gibraltar."
Mr. Hague said then this is as true of the next Conservative government as it was of the last and this was felt very strongly. "That is our pledge."
In a Chronicle interview he said "I also believe we owe it to the people of Gibraltar to work with them to maximise rather than suppress their economic opportunities as well as standing up for their rights to be associated with Britain." He later said that "there will be no taking risks with Gibraltar."
According to the Gibraltar Chronicle, Europe will be a sensitive issue in the new coalition, given that many Conservatives are deeply opposed to greater ties with Europe, while the LibDems are strongly pro-European. Nick Clegg, the LibDem leader and new deputy prime minister, is a former member of the European Parliament who wants Britain to adopt the Euro currency—but only when the economic conditions are right.
Conservative leader David Cameron said in February Britain "would never join the euro" while he is prime minister.
For Gibraltar the appointment of the Minister for Europe, who specifically is tasked with the Rock's affairs, is an important appointment. A Europe Minister's interest in Gibraltar, positive or negative, can impact considerably.