Hillary Clinton and Hague Reaffirm "Unbreakable Alliance"
Saturday, May 15th 2010 - 04:23 UTC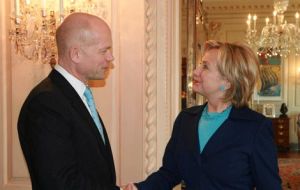 US Secretary of State Hillary Rodham Clinton and new British Foreign Minister William Hague met on Friday in Washington, vowing to strengthen the U.S.-Britain strategic alliance on addressing common challenges.
At a joint press conference following a meeting in United States Department of State, Clinton and William Hague told reporters that the relationship between the two countries is "an unbreakable alliance" based on common values, common aspirations and common concerns.
Hague chose Washington as the destination of his first overseas visit in the new position, sending a clear signal to the Obama administration that the new British government led by David Cameron would continue "work solidly alongside the United States."
"The United States is without doubt the most important ally of the United Kingdom. Fundamentally, it is a relationship rooted in the strong alignment of our national interests," said Hague.
Britain is one of the US closest allies, and its foreign policy emphasizes close coordination with the US. The two countries continually consult on foreign policy issues and global problems and share major foreign and security policy objectives. The US–Britain relationship is also viewed as the cornerstone of the Trans-Atlantic relationship.