Argentine farmers furious with government's handling of relations with China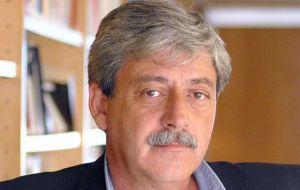 Argentine Small Farmers Association (FAA) leader Eduardo Buzzi charged against the government over China's decision of suspending all Argentine soybean oil imports which is considered by many as retaliation to some restrictions that the Cristina Fernández de Kirchner's administration imposed on Chinese products.
"What's happening is because of the president administration's bad management. A clear example of this was when Mrs. Kirchner decided to cancel her official trip to China because she did not want to leave Vice President Julio Cobos in charge fearing some sort of plot meant to oust her from power", Buzzi told TV reporters during an interview.
The farmers' leader also charged against Domestic Trade Secretary Guillermo Moreno, "Among the many reasons for which we have arrived to this point in our relation with China we can mention having an official like Moreno, who does nothing but give evidence to the whole world the serious problems and recognizable instability we experience at the domestic trade level."
Buzzi also urged the Argentine government to recompose relations with the Asian giant since "It's the biggest buyer of commodities. Not taking care of the bi-lateral relations with a client like this is a total show of irresponsibility."
Chinese importers are still not buying Argentine soy-oil after Beijing started imposing tough new quality standards. Argentina is the world's leading soybean oil supplier and the row with China threatens a key source of hard currency. China absorbs 45% of Argentina's total soy oil production.
Argentine officials have been trying to negotiate a solution, but wider trade tensions between the countries could complicate the talks.
The Argentine government slapped anti-dumping measures on Chinese manufactured goods to protect local industry at the height of the global slowdown and a leading Chinese commerce official threatened retaliatory moves last week.
China's new import standard says the solvent residues used for processing soybean oil should not exceed 100 parts per million, or ppm. The solvent residue level in a few shipments of soybean oil imported from Argentina exceeded 1,000 ppm, Beijing had informed.
Marcelo Elizondo, former head of the ExportAr foundation said that the Chinese decision is clearly a reprisal and warned about the consequences for Argentina's overall trade since China is the country's second trade partner.
"With the purpose of protecting a small market of food imports (one billion USD) we are endangering 20 billion US dollars of processed food exports", said Elizondo.