Come the rainy season Chavez announces beginning of end to black outs
Monday, May 24th 2010 - 03:42 UTC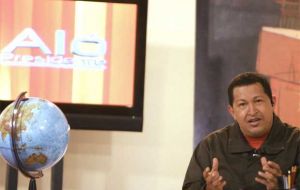 Venezuelan President Hugo Chavez announced that the arrival of the rainy season will help eliminate power rationing on weekends and on weekdays at non-peak hours. Chavez made the announcement during a meeting of an electricity advisory group at the Miraflores presidential palace that was aired by state-run VTV television.
During the meeting, several small power-generation units in different parts of the country were inaugurated.
Hugo Chavez said the mid-May-to-mid-November rainy season has arrived and that abundant rainfall has been registered at river basins that feed Venezuela's main reservoirs.
He noted that the water inflow rate at the Guri dam, which supplies roughly 70% of the country's electricity, was 7,710 cubic meters per second on Friday while just over 4,000 cubic meters per second of water was fed through its turbines.
Chavez said meteorologists were optimistic that more abundant rainfall was on the way and that "the danger of a collapse of the electrical system has disappeared."
A report released last December by the state-owned Corporacion Electrica Nacional predicted a nationwide collapse of Venezuela's power grid by May at the latest if water levels continued to fall at the Guri hydroelectric dam and domestic consumption was not reduced.
The emergency installation of large thermo-electric generators also has helped alleviate the situation, with a record 5,254 MW generated from that source said Chavez. However though the situation has improved Venezuela still cannot "let down its guard or return to wasting energy," but he added that in a few weeks or months the nation's "electricity diet" will come to an end.
Chavez argues Venezuela's electricity crisis was caused by a severe drought brought about by the El Niño weather phenomenon, while the opposition says the populist government's lack of foresight and failure to invest in electricity projects over the past decade were to blame.