Cuban Catholic Church mediation helping with liberation of political prisoners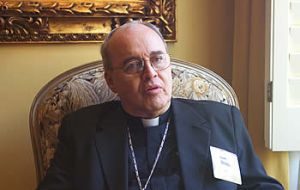 Cuban dissident Guillermo Fariñas said on Sunday that the Catholic Church notified him that Raul Castro's regime on Monday will begin taking "preliminary steps" regarding ill political prisoners and that a meeting is scheduled for this week "to speak about releases".
Fariñas, who 88 days ago began a hunger and thirst strike demanding that the government release 26 sick political prisoners, said that a Catholic representative told him that the government "will admit" the prisoners who are sick into hospitals and will relocate others in prisons that are closer to their places of residence.
He said Havana Auxiliary Bishop Juan de Dios Hernandez visited him in the hospital where he is being treated in the city of Santa Clara and told him that the information was offered to the church a day earlier by Council of State Secretary Homero Acosta.
He added that Acosta spoke by telephone Friday with Havana Archbishop Cardinal Jaime Ortega and told him that "starting on Monday they're going to start preliminary steps that the church had requested with regard to the political prisoners".
Catholic Church officials will have "another meeting to speak about releases" with the Cuban authorities at the end of this week, Fariñas said.
There is "a hopeful expectation" after the talks held between the Catholic hierarchy and President Raul Castro, Fariñas said.
Castro discussed the matter of the political prisoners with Ortega and Cuban Bishops Conference president Dionisio Garcia at a meeting lasting more than four hours last week that confirmed the mediation role being played by the church with the government.
Ortega said in a press conference Thursday that the meeting was a "process" that still had not concluded, but the beginning of which he called "magnificent" and "novel," and in which the church "aspires" to achieve prisoner releases.
"We told Monsignor Hernandez that we had faith in the Cuban Catholic Church," Fariñas said, adding that although the church had told him what it had achieved with its efforts to date, the government is "the one who must" make them come to happen.
Fariñas, a psychologist and journalist, said Friday that he would end his hunger and thirst strike if the Cuban government releases the political prisoners who are the most ill, whose number he placed at 12, and commits itself to a time period within which to release the rest.
Over the weekend also the Cuban church hierarchy met with representatives from the Ladies in White, next of kin from dissidents condemned in 2003, according to one of its members.
"We are full of hope, we've spoken to the cardinal and to monsignor and it seems good times are coming for the prisoners", said Hebe Soler. "There is nothing concrete yet, but we are very hopeful" since the cardinal still has more talks ahead "including with President Raul Castro again"