German "Love Boat" catches fire in Norway: 607 passengers and crew evacuated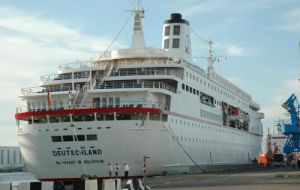 A cruise ship made famous by a German "Love Boat" TV show caught fire Sunday, forcing 607 people aboard to evacuate in a western Norwegian port, rescue officials said.
The fire started in the machine room but was quickly contained and put out by fire-fighters, rescue services spokesman Per Fjeld said.
The MS Deutschland's 364 passengers were evacuated safely to a nearby hotel along with most of the more than 240 crew members, though a few stayed onboard to help the fire-fighters, Fjeld said.
The passengers will stay overnight in hotels in Eidfjorden port before being flown Monday to Hamburg, where the cruise originated, said spokesman Hans-Ulrich Kossel of Peter Deilmann Cruises, which operates the Deutschland.
The ship will stay in the Norwegian port until the cause of the fire is determined.
It was not immediately clear how badly it was damaged. Hotel worker Borghild Vik said that at one point she saw large clouds of smoke rising from the ship.
The Deutschland was featured in the long-running German TV show "Das Traumschiff", which is similar to the "The Love Boat" in the United States.
The MS Deutschland was constructed in 1998 with a tonnage of 22.400. She is described as a true ocean line which reintroduced the elaborate crystal chandelier, the imperial ballroom, loom chairs in a palm filled winter garden, fine antiques and original works of art.
The decor of the "Grand Hotel" evokes the splendour of the Edwardian period and the Roaring Twenties through the use of brass, marble, tiffany ceilings and resplendent upholstery in the lounges.