Whales centre study to be built in Chile's Strait of Magellan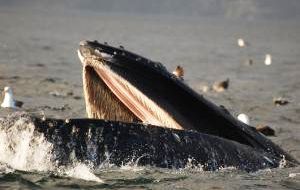 Chile is researching the possible construction of a new centre for visitors and scientists to study whales in the Straits of Magellan.
A significant growth in tourism rates over the last five years has given birth to Chile's first marine park and protected offshore preserve. The region, named after Chilean writer Francisco Coloane, is centred on the Island Carlos III in the Straits of Magellan and is a perfect feeding passageway for whale colonies, seals and Magellan penguins.
The Straits of Magellan is the largest natural passage between the Pacific and the Atlantic oceans. Its beauty and increasing tourist visits motivated officials of the Global Environment Fund (GEF) to construct a visitor centre that will include laboratories, activity rooms, and two wooden dormitories.
Environmental evaluations have already started and the project's design will be shaped like a whale and will be built on a slope of an island in Mussel Bay, which is surrounded by forests. The aim is to finish the project in two years and to preserve the area while facilitating the work of foreign and national scientists.
Chile has repeatedly expressed its concern about the whales and their habitat. In May, Chilean Foreign Minister Alfredo Moreno said that Chile will maintain a position "in favour of conservation and against whaling".
By Loretta van der Horst – Santiago Times