Colombian incumbent presidential candidate wins but can't avoid run-off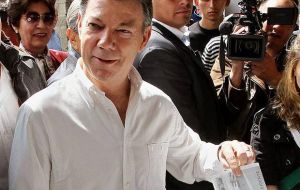 Colombia's former Defense Minister Juan Manuel Santos won more than double the votes of his closest rival in Sunday's presidential election though failed to secure a majority of ballots needed to avoid a runoff in three weeks.
With 99% of votes counted, Santos had 47% against 21% for Antanas Mockus, a former Bogota mayor who promised to eliminate corruption and improve education by increasing taxes on the rich.
"This is a massive surprise," said Monica Pachon, a political analyst at Universidad de los Andes in Bogotá. "Santos is in very good shape going into the second round. It will be very difficult challenge for Mockus to fill the gap now."
German Vargas Lleras, whose Radical Change party formed with Santos' La U movement part of the governing coalition in congress, finished third with 10%. Santos and Mockus will face each other in a June 20 runoff.
Pro-Uribe parties won 67 of 102 Senate seats in March congressional elections, compared with 5 for the Green Party.
Santos, 58, is the cousin of the current vice president and member of the family that founded Colombia's biggest newspaper, Bogotá El Tiempo. He pledged to continue the policies of President Alvaro Uribe, who, with a 67% approval rating after seven years in office, remains a political kingmaker.
As defense minister from 2006 to 2009, Santos oversaw some of the biggest defeats for the Revolutionary Armed Forces of Colombia, or FARC, Latin America's oldest and biggest Marxist oriented drugs-business financed insurgency.
Mockus, 58, surged into statistical tie in pre-election polls after capitalizing on voter concerns over the weak job market and corruption. He brought a giant pencil to campaign rallies to symbolize what would be his main priority if elected: improving education.
Still, he finished first in only one of Colombia's 32 provinces, Putumayo, in Sunday's vote and trailed Santos in his home district of Bogotá by more than 350,000 votes.
But whoever wins the final election has big shoes to fill, said Patrick Esteruelas, an analyst at Eurasia Group in New York. When Uribe took office in 2002 murders reached 28,837 a year and kidnappings topped 2,880. His security policies expanded the armed forces and paid informers to provide intelligence throughout the country, helping almost halve the number of murders and slash kidnappings 93 percent by 2009.
The improved security helped attract a record 10.6 billion US dollars in foreign investment in 2008 compared with 2.1 billion in 2002. The 242 billion USD economy grew 7.5% in 2007, the fastest pace in 30 years. The peso has strengthened 35% against the dollar, more than all other major Latinamerican currencies except Brazil's Real.
Still, South America's fourth-largest economy is emerging from the global financial crisis more slowly than its neighbors. The unemployment rate, at 12.3%, is the highest in the region and the IMF estimated May 28 that GDP will expand 2.25% this year, the lowest after Venezuela, which is still in recession.