Falkland Islands approves plan to further reduce seabird deaths by trawl fishing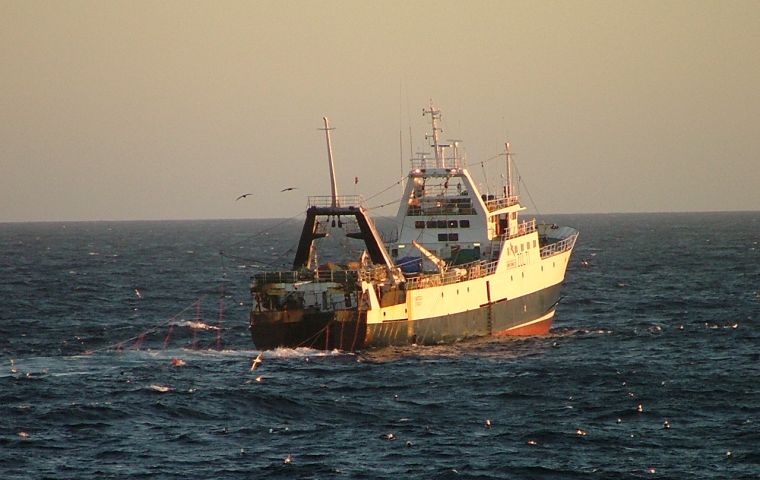 Seabird deaths caused by trawl fishing will be further reduced following the Falkland Islands Government's approval of a new Action Plan. A ninety per cent reduction in seabird deaths was recorded in the long-line fishery the year after a similar Action Plan to introduce tori lines was put into effect in 2004. Both plans demonstrate the steps taken by the Falkland Islands to maintain their international reputation for the responsible and sustainable management of their fishing industry.
Over sixty-three species of seabirds have been recorded in Falkland Islands' waters, with twenty-two known to breed in the Islands. For several species, including the black-browed albatross and southern giant petrel, the Falkland Islands' population represents significant proportions of their world populations.
The Falkland Islands National Plan of Action for Reducing Incidental Catch of Seabirds in Trawl Fisheries aims to secure the long-term sustainability of seabird populations. This will be achieved in part by setting indicative bycatch objectives and providing detailed Seabird Interaction Management Strategies.
A Seabird Bycatch Committee will be set up to monitor progress on an annual basis, and the committee will also maintain contact with industry groups and relevant officers to ensure that monitoring and mitigation measures are kept up to date. The Action Plan also contains a detailed framework for the next four years. Its adoption ensures compliance with domestic and international policies and conventions.
Environmental charity Falklands Conservation collaborated with the Falkland Islands Fisheries Department on the research and practical initiatives underpinning the new Action Plan. The Plan's summary document has been translated into Spanish and Korean, which together with English represent the three main languages used in the Falkland Islands trawl fishery.
Falkland Islands Government Environmental Officer Nick Rendell said: "Hopefully this plan can be as successful as the previous one and will continue to reduce the number of seabird deaths – a significant step towards achieving the long-term sustainability of seabird populations. The fishing industry in the Falkland Islands contributes hugely to our economy, but the plan will ensure this isn't at the cost of the wonderful wildlife that we are so lucky to enjoy here."
The Falklands have a raw, unspoilt environment with an extraordinary wildlife with more than 227 species of identified birds (including several of the world's largest endangered breeding colonies), as well as whales, dolphins, elephant seals, sea lions, delicate flora and rugged geographical formations.