Falklands' thick fog forces two RAF Typhoons and tanker to land in Punta Arenas
Friday, June 4th 2010 - 19:02 UTC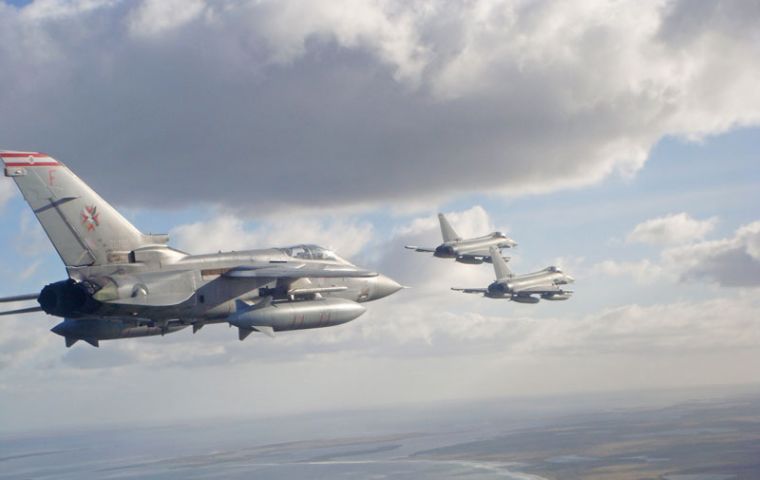 Two Royal Air Force Euro Typhoon fighters and their Vickers VC10 refuelling tanker had to land Wednesday afternoon in Punta Arenas, extreme south of Chile, because of adverse weather conditions in the Falkland Islands Mount Pleasant Airport.
The incident was reported by the Chilean press and in an official release from the Argentine Air Force which revealed that on request to Comodoro Rivadavia air control service, the three aircraft over-flew Argentine territory en route to an alternative airport and therefore "there was no violation of Argentine air space".
According to Chile's El Mercurio visibility in MPA because of a thick fog was down to a hundred metres. The three aircraft apparently were travelling south from Brazil and entered Chilean air space close to 18:00 hours.
The three aircraft after landing in Punta Arenas taxied to the adjoining Chilean Air Force Chacabunco, seat of the IV Air Brigade. The crews spent the night in Punta Arenas and on Thursday morning were off to the Falklands MPA, an hour and 50 minutes journey.
In the second half of last year Euro Typhoon fighters were deployed in the Falkland Islands replacing the ageing Tornado F3 interceptors belonging to the Squadron 1435. Last October the RAF was praised by the UK MoD for the successful completion of Operation Tempest Trail, one of the main logistics operations in peace time involving the successful landing in the Falklands of four Typhoons after flying 9.000 miles 18 hours non stop from the UK to MPA.
An MoD spokesperson said the aircraft were on routine training activities before they were directed to Punta Arenas, a diversionary airport for MPA: "We are very grateful to both the Argentine Authorities and the Chilean Authorities for their cooperation and rapid response which ensured that this emergency was resolved swiftly and with no loss of life."
This is not the first time that Punta Arenas has been used as an alternative airport in emergency situations for foreign military aircraft.