Exclusive premium farms' project in Uruguay wins British Architects award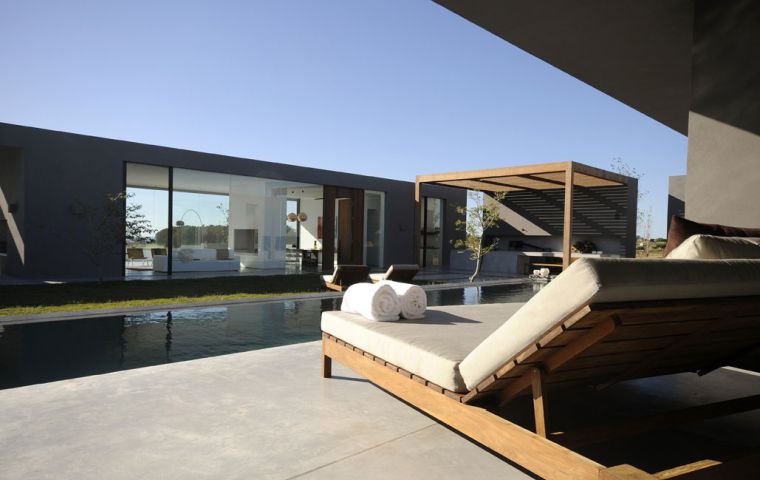 KallosTurin Architects have won an international award from the Royal Institute of British Architects, RIBA, for the design and construction of two farm houses in an environmental friendly residential development in one of Uruguay's most fashionable resorts.
Villalagos is an exclusive enclosed estate with 13 premium residential farms covering an area of 91 hectares plus 34 of common-use next to the Uruguayan Atlantic coast, a few miles east of Punta del Este.
The architecture with its simple abstract forms has been designed to naturally blend with the rolling hills taking advantage of the landscape, marvelous view and predominant oceanic breezes. Materials are simple, local and reflect the Uruguayan life style with a basic purpose of not interfering with the natural landscape.
KallosTurin Architects, the firm in charge of the design and construction of the Premium Villalagos residential estate was honored with the RIBA International Award following the completion of the first two farm houses
RIBA is the leading professional membership association for licensed architects and an outstanding international reference for promoting excellence in the profession.
RIBA awards are extended to constructions that have exceptional standards and make a substantial contribution to the local environment. The annual awards have been running since 1966.
Last year's winners for the International Award category included the National Stadium Beijing (Birds Nest) by Herzog and de Meuron and Beijing Airport Terminal 3 by Foster and Partners.
Villalagos is the fourth residential housing project to receive such an award in this category.
Based in London and San Francisco and worldwide publicized KallosTurin Architectsis an international design firm providing full architecture and interior design services.
They outstand for their contemporary art focus with a touch of warmth, sophistication and a degree of diversion. Past and current projects include top bracket residential homes throughout the world, large office projects, open retail spaces and a restaurant in Napa Valley, California.
Sales of the Villalagos premium farms development are managed by Terramar Christie's Real Estates.