Uruguayan president Mujica only asset is a 1987 VW Beatle
Saturday, June 5th 2010 - 05:28 UTC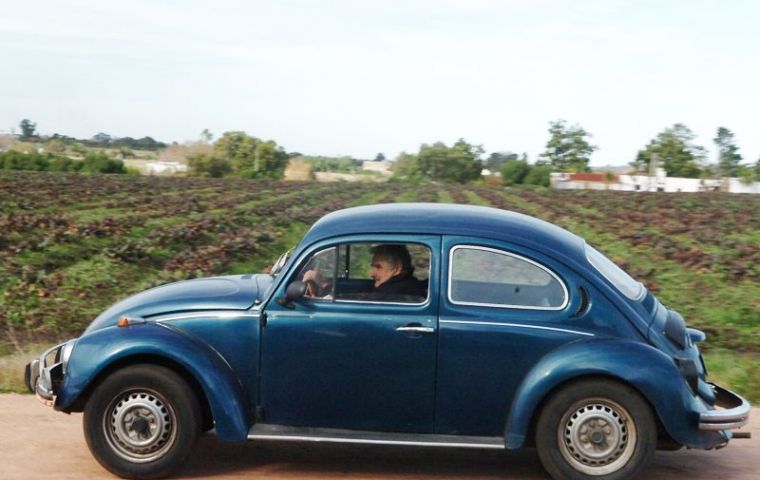 Uruguayan president Jose Mujica, 75, formally declared to the Transparency and Public Ethics commission that his entire wealth amounts to a 1987 Volkswagen Beatle valued at about 1.900 US dollars.
Since the former guerrilla leader has no bank accounts or other assets and his small flower farm is in his wife's name, the 23 year old car is all he owns according to his sworn declaration which was made public in Montevideo's press this week, extracted from the Official bulletin.
Mujica's only reported income is his presidential salary, about 11,000 US dollars a month of which after taxes he gives 20% to his political movement and another percentage to Uruguay's housing emergency fund which leaves him with 1.500 US dollars approximately.
The former guerrilla leader who spent 13 years in jail under harsh conditions bought the Beatle in 2004 and had pending (four years) vehicle taxes, plus fines, equivalent to almost the market value of the car which he paid in January this year.
"We didn't pay the vehicle tax on time because the Montevideo municipality was unable to locate our farm. It sounds strange but that is the truth", said Lucia Topolansky, Mujica's wife and a member of the Uruguayan Senate.
"We belong to the old cash generation, we have no bank accounts or credit cards", added the First Lady who formally owns the farm, tractor and other equipment for growing flowers.
On his release from jail in 1985 when the return of democracy in Uruguay Mujica and his wife Lucia resumed their trade farming flowers, which they sell at the local market.
Once elected president in November 2009 he anticipated he would remain living at the farm which had to undergo some reforms for security reasons.
Whenever he has free time Mujica loves to get back on the tractor and de-stress himself as he likes to refer to his farm life.
Vice President Danilo Astori declared assets of 250.000 US dollars which include a house in one of Montevideo's middle class quarters, a Volkwagen Confort model and two bank accounts.
Astori who was Finance minister during the previous period under former president Tabare Vazquez said in his sworn statement he has no bank accounts or assets overseas. His income as president of the General Assembly (the two Houses) is approximately 10.000 US dollars.