Chile ski resorts still waiting for snow to begin winter season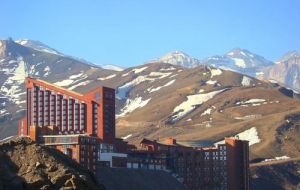 Though Chilean ski resorts were ready to begin the winter season more than a week ago, the slopes cannot be opened due to lack of snow. A lack of rain in the region has been blamed. The central and southern region of Chile has had a low level of rain this year, causing opening delays for some centres.
Until now, only one of the four major ski resorts within a two-hour drive of Santiago has opened. The El Colorado resort has started the season, with 14 runs open. El Colorado has supplemented the natural snow with artificial. The other three, Valle Nevado, La Parva and Portillo, remain closed.
The Valle Nevado ski resort, one of the largest in South America, was scheduled to start operations this weekend, but the opening day had to be postponed. Ricardo Margulis, the winter resort manager, explained that, "we expected and referred to the winter season opening date as June 11, but in the absence of rain in the centre of the country, we have to postpone the start of that in a few days."
Valle Nevado, particularly, has a large amount at stake. It recently announced a 40 million US dollars investment in the resort to improve its services. Another major Chilean resort, La Parva, needs 40 to 50 centimetres of snow to fall in order to be prepared for the skiers, despite having all else ready. The general manager, Thomas Grob, lamented that "on June 4, we would have been able to open if snow had fallen".
Precipitation is expected this weekend in the ski regions from Friday to Sunday and the resorts are hopeful this will jumpstart their seasons.
One reason for the lack of rain and snow has been the weather phenomenon, La Niña.
Juan Quintana, an expert from the Chilean Meteorological Office, said that a cooling of Pacific Ocean temperatures has led to the present conditions. La Niña causes, in addition to lack of rain, lower temperatures and even frost. As of recently, Valparaiso has had a 57% deficit of rainfall, Curico, 73%, Chillán, 58%, and Concepcion, 69%.
This problem could spread to larger economic effects. Patricio Gonzalez, an agricultural meteorologist at the Universidad de Talca, predicts that because of the recent lack of rain, we could see a decline in resources for reservoirs and therefore, irrigation for agriculture.
A similar situation happened last year. The four major ski resorts close to Santiago opened after a two week delay because of lack of snow. Portillo and Valle Nevado opened on June 22, El Colorado opened June 23 and La Parva opened June 24, while the majority of Chile's resorts opened by June 28, 2009.
In 2009, the then-marketing director of El Colorado commented on the slow start to the season. "For the past three years [in 2006- 2008] we have opened at the beginning of June. But this year we don't have a clear idea of the opening date. We are waiting for the snowfall or for the conditions making it able to ski."
This year, again, skiers and resort owners alike are left waiting.

By Laura French – Santiago Times