Falklands' and decolonization debate, Timerman's international debut
Monday, June 21st 2010 - 04:10 UTC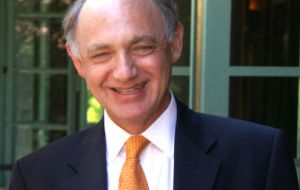 Argentina's newly designated Minister of Foreign Affairs Hector Timerman will be making his international debut with the Falkland Islands debate, next Thursday/Friday at the United Nations Decolonization Committee, C24.
The former ambassador in Washington and the first Argentine Jewish Foreign Affairs minister is scheduled to be sworn on Tuesday and will immediately fly to New York. Apparently he already has been in contact with Argentine ambassador before UN Jorge Argüello and has been preparing for this week's major diplomatic event for Argentine foreign policy.
Very close to President Cristina Fernandez de Kirchner and fluent in English, Timerman has been crucial in improving Buenos Aires always complicated relations with Washington and in establishing strong links with the influential Jewish community in New York
In his first statements to the Buenos Aires press, Timerman anticipated there would be no major changes in the current foreign policy of his predecessor Jorge Taiana, "since this is established by President Cristina Kirchner".
"Those officials who believe they can't defend the foreign policy established by the President, who is head of state, will have to give a step aside", underlined Timerman.
He mentioned three main issues: Brazil is a priority for Argentina and relations will continue "to improve and deepen"; Iran and the United States, and sovereignty claims over the Falklands.
With Brazil "we are building a union based on a strong coincidence of interests, common positions in international forums and economic integration in the framework of Mercosur", which he described as the heart of "economic and political integration in the region".
With the United States "we have the level of links which we wish to have with the world's leading power" although admitting that much is needed still regarding trade, mainly for agriculture commodities "to reach the degree of understanding we have in fighting the drugs trade and in nuclear security".
Regarding Iran, Timerman recalled that since 2003 the Argentine government decided to support the requests from Justice to question and judge all those responsible for the (1994) attack on the Jewish Fraternity in the heart of Buenos Aires which killed and injured hundreds.
"An Argentine federal court has requested the extradition of several Iranian officials allegedly involved in the attack. It is for Iran to have them extradited so they can face trial in Argentina", he added.
Argentina has also made its case before the United National annual General Assembly.
And regarding the Malvinas Islands Timerman said that Argentina will continue to defend its national and territorial interests, both in the continent and on the continental platform.
"We want to solve the conflict with the UK peacefully and around a negotiations table. If we haven't sat at a table it's not because of Argentina".
Given the fact that he is the first Argentine Jewish Foreign Affairs minister, Timerman said "this shows how much the Argentine society has advanced" since the return of democracy which he pointed out is also marked by the disappearance of prejudices like same sex-marriages.
"Maybe in a near future we could also have an Armed Forces Chief Of Staff who is Jewish", said Timerman.
"We're one of the countries most open and respectful with minorities, which is why I applaud the bill which contemplates marriage between people of the same sex".