Chile announces complete de-mining of border areas with Bolivia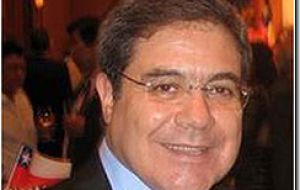 Following five years of sustained efforts the Bolivian border with Chile has been swept free of mines, 22.988 of them that were planted in the seventies under the military regime of Dictator General Augusto Pinochet.
The announcement was done by the Chilean consul in La Paz, Jorge Canelas who reported the successful culmination of de-mining in a Sunday interview, "the only thing missing is certification that the fields are effectively free of mines".
The task was begun in July 2005 following Chile's ratification of the Ottawa Convention on demining, particularly the dreadful antipersonnel mines that have maimed thousands of innocent civilians worldwide.
The administration of President Sebastian Piñera is waiting for the certification from neutral organizations or non government organizations, although the United Nations is convinced of the effectiveness of the Chilean job.
Chile also expects to have finalized a similar process in the Magallanes region, (extreme south of Chile next to the Argentine border) by 2012. Chilean forces have cleared some fields but there are still many more with regular mines and antipersonnel mines planted at the height of the conflict with Argentina in the late seventies when a border dispute involving several islands.
"We're preparing a meeting at Defence ministry and joint chief of staff level next July precisely in the border where apparently de-mining has effectively ended. These are times when relations between Bolivia and Chile are in an intense de-freezing process" said Bolivian consult in Santiago Walker San Miguel.
The Bolivian official added that the demining is part of the 13 points bilateral agenda with which both neighbouring countries want to intensify links and has as the major objective the Bolivian aspiration of a sea outlet, which it lost following the Pacific war of 1879.
Failure to reach an agreement on Bolivia's land-locked condition three decades ago led to the formal breaking of relations, which only begun improving with former Chilean president Michelle Bachelet. However they remain a highly sensitive issue for both sides and that is why relations are at consul level.