G-20 summit: EU wants timetable to scrap stimuli; US warns recovery is still weak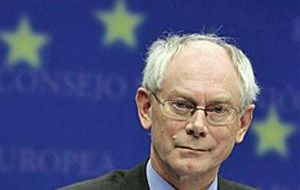 The European Union (EU) has urged the G20 club of nations to agree when to scrap their economic support packages. The EU said a coordinated exit from stimulus measures would help restore confidence and reduce the risk that some countries would be disadvantaged.
EU leaders made the call in a open letter ahead of this weekend's G20 summit in Canada. The EU also said the G20 should reconsider the introduction of a global transaction tax on banks.
During the global financial meltdown, countries introduced a variety of support mechanisms, from loan guarantees to emergency tax breaks, to maintain growth. The impact on public finances was huge, and the EU believes it is time to plan the withdrawal of this support.
"The G20 should agree on a coordinated and differentiated exit strategy to ensure sustainable public finances," the letter says.
"Even though the timing, sequencing and scope of exit measures have to be tailored to conditions prevailing in the individual G20 members, coordination between governments can help to take into account possible spill-over effects," it says.
The letter, from European Council President Herman Van Rompuy and European Commission President Manuel Barroso, also makes a plea for global coordination on taxing banks.
EU members are broadly in agreement that there should be a small tax on each international financial transaction, but there are differences about whether it could succeed without the agreement of every G20 member.
EU members, notably the UK, Germany, and France, are also moving towards the imposition of levies on banks and building societies.
The letter says: "We consider that international work on levies and taxes on financial institutions should continue to maintain a world-wide level playing field.
"Also, the introduction of a global financial transaction tax should be explored and developed further in that context."
However, the EU plea for moves on stimulus measures and a transaction tax could face stiff opposition from the G20's most influential member, the USA. President Barack Obama has expressed caution about the introduction of a transaction tax. And he has also warned against scaling back economic stimulus measures too quickly.
He said last week: "Our highest priority in Toronto must be to safeguard and strengthen the recovery.
"We worked exceptionally hard to restore growth; we cannot falter or lose strength now. This means that we should reaffirm our unity of purpose to provide the policy support necessary to keep economic growth strong".