Timerman reaffirms Argentina's ""unrenounceable" Falklands/Malvinas claim
Thursday, June 24th 2010 - 22:50 UTC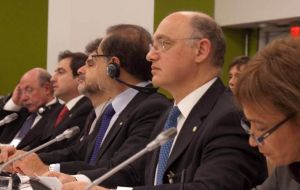 The United Nations Decolonisation Committee unanimously approved a resolution calling on Argentina and the United Kingdom to ensure the dialogue process and resume negotiations for a peaceful solution to the Falklands/Malvinas question.
The declaration sponsored by the Chilean representative Ambassador Octavio Errazuris was supported with strong statements from other regional delegates, Venezuela, Uruguay, Bolivia, Cuba, Ecuador, Nicaragua, Mexico and Brazil.
"My country decidedly supports Argentine sovereignty rights over the Malvinas Islands", said the Chilean delegate while others referred to the colonial presence "as a deep wound in our continent".
"This colonial remora which offends Argentina, offends the whole of Latinamerica", said Uruguayan ambassador before UN, Jose Luis Cancela.
Before the resolution was aired, Argentina's new Foreign Affairs minister Hector Timerman said he had come to present before the Decolonization committee, or C 24, Argentina's "unrenounceable and imprescriptible sovereignty rights over the Malvinas, South Sandwich and South Georgia Islands and their adjoining maritime spaces".
In his first speech as Foreign Affairs and International Trade minister, Timerman said he had the honour and privilege of addressing the C24 and the international community to reaffirm Argentina's sustained and uninterrupted protests since the Malvinas Islands was illegally and forcibly occupied by Britain in 1833.
He also mentioned the recent hydrocarbons exploratory round in Falklands' waters warning of the environmental dangers that could occur as is happening in the Gulf of Mexico with a British oil corporation.
"These British activities besides being a flagrant violation of International Law and clearly contemptuous of the international community mandate, represent an environmental threat not only for Argentina but also for the rest of the countries of South America", said Timerman.
The Argentine delegation included governor Fabina Ríos from Tierra del Fuego which according to the country's constitution also includes the Falkland Islands, other South Atlantic Islands and Argentine Antarctica.