Timerman will categorically reject oil exploration activities in the Falklands
Thursday, June 24th 2010 - 05:53 UTC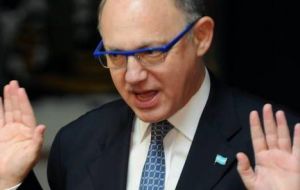 Newly appointed Argentine Foreign Affairs Minister Héctor Timerman said on arrival in New York that on Thursday he will strongly argue in support of 'Argentine sovereignty rights over the Falklands/Malvinas Islands' before the United Nations Decolonization Committee or C24.
In a Foreign Affairs ministry release Timerman said his presentation with stress "the categorical rejection of the unilateral and illegal activities of hydrocarbon exploration and exploitation in the Malvinas area."
"In this way, the government of President Cristina Fernández de Kirchner reiterated, through her Foreign Affairs Minister, that what has been established in the different resolutions and multiple dispositions of the United Nations should be met, so that the United Kingdom may once again sit at the negotiations table with Argentina, which has always clearly stated its will to dialogue," the communiqué stated.
Timerman said that during the UN Decolonization Committee briefing on the Malvinas Islands case he will be acting as President Cristina Kirchner and "the entire Argentine people's messenger".
"The president has a very special dedication and interest, and one of her constant policies has been to recover Malvinas. I'm going to be the messenger in this wish the president has, which also represents the entire Argentine people," Timerman said in an interview with a news source in the headquarters of the Argentine mission at the UN.
The minister said that Malvinas "continues being a great national cause," which is demonstrated in the delegation that accompanies the minister in New York, integrated by Tierra del Fuego province Governor Fabiana Ríos and senators of different parties.
Earlier Argentine ambassador to the UN Jorge Argüello referred to the Malvinas Islands sovereignty conflict and said the United Kingdom is a "powerful counterpart".
"Every year since 1965, the UN General Assembly first and the Special Committee on Decolonization later have urged Argentina and Great Britain to begin negotiations on the islands' sovereignty" Mr. Argüello explained.
He clarified, however, that "it takes two to tango," and in this case the counterpart is "a powerful" one, he said, as he recalled Great Britain's veto power in the UN Security Council that allows the country to ignore its own resolutions.
"On an international level, there's a growing understanding of the issue, and tomorrow (Thursday) we will be able to hear different voices from around the world, urging both parts to begin negotiations," he added.
"I believe that, in time, the Malvinas Islands will be returned to Argentina," Mr. Argüello said, for which "Argentina needs to show a will and predictability, in order to keep adding consensus."