"China playing games" with the announced Yuan flexibility, says Krugman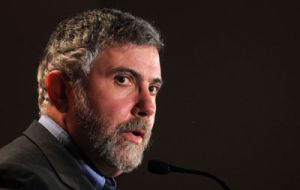 Nobel laureate Paul Krugman said China's pledge to make the Yuan more flexible was an "exercise in bad faith" intended to fend off international pressure for a stronger currency at this week's Group of 20 leaders' summit.
China is still undervaluing the Yuan to make its exports "artificially cheap" and keep imports expensive, a policy that is "very damaging at a time when much of the world economy remains deeply depressed," Krugman wrote in an opinion piece published on the New York Times's website Thursday.
The Yuan has gained 0.53% this week, the most since December 2008, following the central bank's June 19 announcement on abandoning a fixed peg to the dollar. The People's Bank of China had held the Yuan at 6.83 since July 2008 to shield exporters during the global financial crisis.
The country has "barely" allowed the currency to rise, and further movements will be "like watching paint dry," Krugman wrote. The undervalued Chinese currency fuels inflationary pressure and diverts national income to the purchase of foreign assets with a low return, he said.
G-20 leaders begin a two-day meeting in Toronto this week-end to discuss how to sustain the recovery from the worst global recession in postwar history. Following China's announcement on the Yuan, the talks are likely to focus on the pace of fiscal- deficit reductions rather than exchange rates.
Policy makers outside of China should consider trade sanctions unless the country delivers "real change," Krugman said.
President Barack Obama said yesterday that it's "too early to tell" whether China's decision to allow more yuan flexibility will be sufficient to rebalance the world economy. The Obama administration is under pressure from some members of Congress to push harder on China over its currency policy.
U.S. economic woes can't be solved by a revaluation of the Yuan and American leaders will "help no one" by politicizing the issue, Chinese Foreign Ministry Spokesman Qin Gang said Thursday.
Krugman said the Chinese government's idea of "flexibility" is for the Yuan to move slightly either up or down, while U.S. officials were using the word as a euphemism for seeking a "much stronger" currency.
Chinese officials are "seizing on the form of American language to avoid dealing with the substance of American complaints," the Princeton University professor said. "In short, they're playing games."
Krugman, who won the Nobel Prize in 2008 for his theories on global trade, said in an October article in the New York Times that China is taking jobs from other countries by maintaining a cheap Yuan.